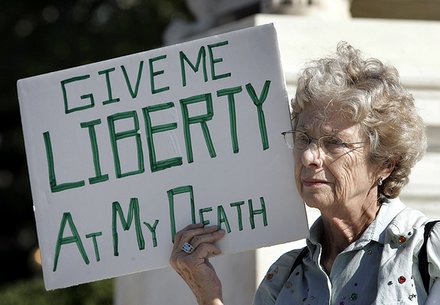 Imagine being bedridden with a vicious, incurable disease. Living in misery and being kept alive with a cocktail of very powerful prescription drugs, but you do not want to suffer any longer. You want to pass peacefully and seek the advice of your doctor but your physician cannot legally help you. This is the reality of a number of sick patients throughout Canada that wish they had the option of physician-assisted suicide.
In Canada, like the majority of the United States, physician-assisted suicide is illegal, but some doctors are still helping fulfill their patients' wishes to die peacefully. These doctors usually do so by increasing pain medicine or giving their patients very strong sedatives that will speed up the process. If these doctors are caught, they could face serious criminal charges, like first-degree murder, and would most definitely lose their medical careers.
One may suggest that these doctors should voice their opinions supporting physician-assisted suicide in an effort to change legislation but it is a battle they will probably lose along with their reputation and medical licenses. Even though a great number of medical doctors may quietly support such change, most of the country's medical governing bodies are opposed to assisted death. This unfortunately leaves patients to resort to other physically and mentally challenging options. For example, a Canadian man this past April took his own life, in which he carefully planned with his wife, because he could not live with the crippling and painful symptoms of Huntington's disease.
In the United States, Washington and Oregon have legalized physician-assisted suicide for people with terminal illnesses. Also, Massachusetts has proposed the Death with Dignity Act which would allow doctors to prescribe medication to end a patient's life if he or she is mentally sound and expected to die within six months. This law will be voted on in November.
I believe that physician-assisted suicide should be legal. People should have a right to control their life, especially those living in great pain. One can argue that these people can control their own life and do not need physicians to aid in their death but I believe the support of physicians provide patients with comfort. It allows patients to make fully informed decisions about their health and seek the best method in dying peacefully.
What are your views on physician-assisted suicide?
Photo Source: LJWorld