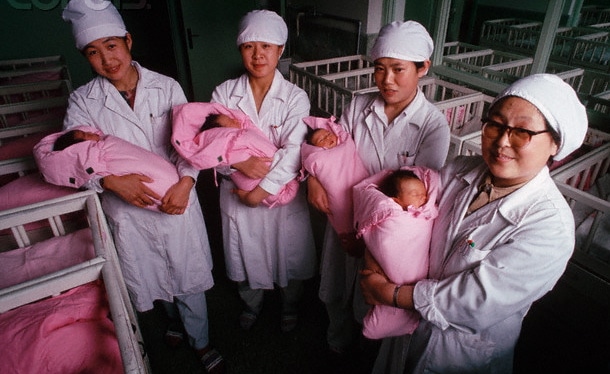 (image provided by china-mike.com, available here)
Recent reports out of China have revealed a trend which may have dire consequences for the Chinese, and the world, economy.  Although the Chinese economy is currently growing faster than anticipated, its workforce is steadily declining.  In 2012, the country's working age population – men and women between the ages of 15 and 59 – fell by 3.45 million people to 937.27 million.  Statistically this is only a small percentage; however, many view it as a foreshadowing of problems that are on the horizon.  As the workforce declines, it increasingly puts China at risk of being in a position where the country will have too many dependents and not enough workers to support them.  In other words, young Chinese people without siblings – not everyone's an only child, since the one-child policy has some exceptions – will have to support as many as four grandparents and two parents in their old age. For the economy as a whole, there will be far fewer workers to produce the goods and services for a still mammoth population.
Granted, no one knows for sure if this worst case scenario will come true, and there are still measures the Chinese can take to alleviate the problem before it gets out of hand.  For instance, one example includes turning to immigration.  Historically, China has been a supplier of workers to the rest of the world, but as it ages the flow could reverse and the country might seek to recruit immigrants from neighbors like India, the Philippines, and Indonesia, which have large and relatively younger populations. China, however, like Japan, might find it hard to integrate or accept large numbers of foreigners in its midst.  Thus, this quick fix would probably only be short term.  Nonetheless, it could serve to bridge the gap of the nearly 20 years it would take for babies born now to enter the workforce.
The declining workforce is only one reason to scrap the one child rule.  There are moral reasons as well.  It represents an invasion of privacy that leads to hardship and trauma, including unwanted abortions or sterilization. Some China experts are hopeful that China's next president, Xi Jinping, is a reformer who will support more liberal policies. They hope one of the first changes he undertakes is to get rid of the one-child rule.
In your opinion, will China seriously entertain changing a law that has been on its books since 1979?  If so, do you see it having the effect this article claims it will?  What happens to the economies of countries that outsource much of their manufacturing to China if the Chinese workforce continues to decline?