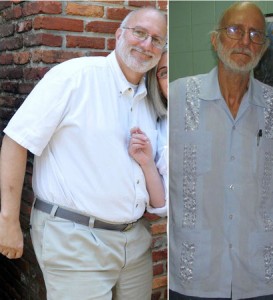 Today, an American named Alan Gross (pictured above) is trapped in a Cuban prison and has been there since 2009 on charges of being an American spy. He is serving a 15-year sentence for bringing in communication equipment to Cuba as a part of his job as a U.S. government subcontractor for the U.S. Agency for International Development. The equipment, that included satellite phones and computers, was going to be used to connect Cuba's small Jewish community to the internet. Gross' only mistake is that he failed to get the proper permits from the Cuban government to allow him to bring in such equipment. Gross, who has dedicated his life to traveling the world to help others, is now suffering in a Cuban prison for something that seems like a small oversight. So what is being done to get him home?
Recently, a U.S. congressional delegation, made up of a handful of U.S. lawmakers including Sen. Patrick Leahy, chairman of the Senate Judiciary Committee, went to Cuba to meet with Cuban President Raul Castro and Foreign Minister Bruno Rodriquez Parilla to discuss the release of Gross. This is not the first visit to Cuba for U.S. lawmakers to discuss releasing Gross and even the Obama administration has pressed the Cuban government to release Gross.
This U.S. congressional delegation assured Castro that Gross was not a part of any U.S. covert program to destabilize the Cuban government. Instead, Gross was just trying to fulfill his responsibilities, on behalf of the USAID. Unfortunately, Castro would not budge but would only release Gross if the U.S. releases five Cuban intelligence agents that are currently serving long prison terms.
Gross' family is also fighting for his release. They have made a website and have been a part of television interviews in order to gain support for Gross' release. On the website, it states that Gross is in poor health. He has lost over 100 pounds and suffers from degenerative arthritis. Also, Gross' 90 year-old mother is ill and he is afraid that he will never be able to see her again.
News sources have noted that this situation has hampered efforts to improve the ties between the U.S. and Cuba. What do you think the U.S. should do in order to get Alan Gross home?
SOURCE: CNN, ABC News, BringAlanHome Website
PHOTO SOURCE: Philly.com