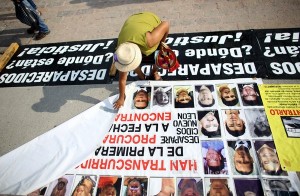 This month the national human rights commission in Mexico is looking into 2,443 kidnapping cases in which corrupt police or military appeared to be the abductors.
Prosecutors, detectives, human rights workers, and families are working together to crack cases and help close the gap and extreme distrust between civilians and the authorities in Nuevo Leon State.
Currently, there are about 26,000 missing-person reports in the federal government's database, reports the New York Times.  And, as the pressure has been mounting from victims' families to investigate these crimes, including protests by the victims' mothers, the federal attorney general's office announced that these cases would be brought to light.
Attorney General Jesus Murillo Karam told reporters that: "We are not doing magic. [But] [w]e are going to get as far as you can.  We are going to exhaust all the options and speak with absolute truth about the possibility of the results."
Fifty-two cases have been resolved since June 2011, when the cases were first agreed to be reopened.  And out of the 40 arrests that have been made on either homicide or abduction charges, 16 of them were police officers.
An investigator with Human Rights Watch, Nik Steinberg stated: "Nuevo León is one of the only states where you see prosecutors actually doing the due diligence of conducting investigations, meeting with families, going to the crime scene, taking common-sense steps to advance the investigation.  To search for the missing and find the people responsible for taking them, in Mexico where normally investigators don't do any of that, that is progress."
Eduardo Ayala who is helping coordinate the investigations at the Nuevo León prosecutor's office stated that the state is working with the UN and experts from other countries to write a standardized protocol on how such cases should be handled in the future.
What do you think the role of the UN or foreign countries is in helping Mexico solve the missing persons cases?
SOURCE: NY Times; Associated Press
PHOTO: NY Times