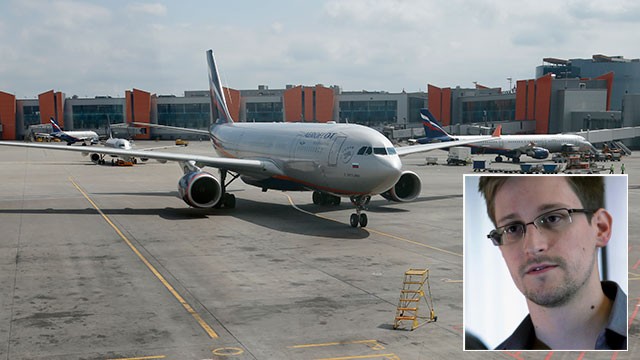 As of this writing (Monday, July 1st), Edward Snowden is still in the international area of Sheremetyevo Airport in Moscow. In the morning, he applied for political asylum in Russia via a WikiLeaks researcher who served as a liaison between the Foreign Ministry and the former-NSA agent. Snowden has the use of the WikiLeaks legal team; attorneys who successfully petitioned Ecuador to grant asylum to their founder, Julian Assange.
Russian President Vladamir Putin (who must be enjoying this much more than he lets on) has essentially stated while he will not aid Snowden, he is not going to help the U.S. out either. In an interview, Putin stated that Snowden could stay in Russian if he did not make any harmful disclosures about the U.S. Snowden is technically not "in" Russia yet, as he has not gone through Passport Control and entered Russian boundaries. Just as normal international travelers can avoid a nation's taxes by shopping duty free in international airport terminals, Snowden has the benefit of being in a transit zone and under international law, not domestic.
Why Ecuador? The South American nation who granted refuge to Julian Assange seemed like the likely choice for Snowden to find asylum. Ecuador does have an extradition treaty with the United States, signed in 1939 and entered into force in 1941, and Vice President Biden did place pressure on the nation to reject Snowden's request. The U.S. State Department, as well as certain members of Congress, have gone as far as to imply that trade negotiations to renew the Andean Trade Preference Act would fail if Snowden was granted asylum. Ecuadorian President Rafael Correa struck back and renounced the trade rights, seemingly a first step to fully alienate the U.S. However, Ecuadorian law, (as well as Icelandic law, another debated destination) states that a person seeking asylum must do so from inside the country or one of its embassies. Assange, recall, fled into the Ecuadorian embassy in London to file his request and he is still there, unable to leave without being arrested. Since Snowden is in Moscow, he may have a better chance of getting to an embassy. That act would essentially test how strong Russian/U.S. relations really are.
The Washington Post also suggest another option: Venezuela. Under Hugo Chavez, the nation seemed to be moving in a direction of direct competition with the U.S. Its new president, Nicholas Maduro, is in Russia for a meeting with Russian officials on oil. The newspaper suggests that Snowden might flee Moscow on President Maduro's plane; an act that seems more cinematic than plausible.
It remains to be seen how much any nation wishes to test the power and goodwill of the United States. It's also interesting to note that most of the possibilities are Western Hemisphere nations  (Ecuador, Venezuela, Cuba). We have come a long way from the time of the Monroe Doctrine and the United State's ability to use its influence to achieve its goals. This must be something that goes through President Obama's and Secretary Kerry's minds.
Which nation is the most likely nation to grant immunity to Snowden?
Does the United States have enough influence to get Snowden back to the U.S. and in front of a federal judge?
Sources: