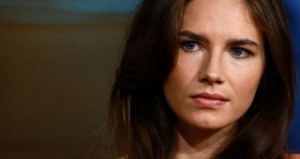 On January 30th, 2014, Amanda Knox was found guilty, once again, but this time by the Italian Supreme Court. Here's a quick timeline of Amanda Knox and the Italian justice system. In 2007, she was accused, along with her former boyfriend, of murdering her roommate in Italy while studying abroad. Based on the overload of cases in Italy, she waited in prison for two years until her trial. Unfortunately, she was convicted of murder. However, those charges were overturned in 2011 by the appellate court in Florence. On March 26th, 2013, the Italian Supreme Court overruled the acquittal and ordered a retrial due to "multiple instances of deficiencies, contradictions and illogical" conclusions by the appellate court. Why? Because the Italian justice system allows prosecutors to appeal acquittals.
So what is going to happen to Amanda Knox now? Luckily for her, she was not in attendance of her trial when the verdict was reached. Otherwise, who knows if she would ever be able to return back to the U.S. until she serves her 28 ½ year sentence in prison. As of now, I'm sure she will stay in the U.S. and wait to see what decision will be made regarding her lawyers' appeal that they plan to file after the court publishes their reasoning. If the conviction is upheld, then I would not doubt that Italy will submit an extradition request to the State Department.  "Extradition' is the formal surrender of a person by a State to another State for prosecution or punishment". The U.S. has extradition treaties with over a hundred nations of the world, one being Italy.
On October 13th, 1983, Italy and the U.S. signed the International Extradition Treaty. After reading it, I find Article 10 and 6 the most interesting when applying it to Knox's case. Under Article 10, Italy needs to demonstrate to a U.S. court "probable cause to believe that the crime for which extradition is sought was committed and that the person sought committed it." Some may argue that this case does not even meet this burden even though the Italian Supreme Court found the evidence to be beyond reasonable doubt. Article 6 discusses "non bis in idem" which is Latin for nobody can be tried twice and thus gives grounds for refusal of extradition. So does that mean the U.S. will not extradite Amanda Knox because she has a 5th Amendment right entitling her to no double jeopardy? Not necessarily. Some say that the "retrial" was not considered a retrial, but rather just one case allowing appeals from both the defendants and the prosecutors.
So what do you think will happen? Do you think the U.S. will fight for Knox? What happens if they do not comply?
Picture: Amanda Knox
Source: Injustice in Perugia; Extradition Treaty