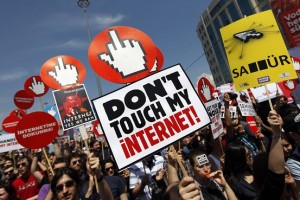 On Istiklal Avenue in Istanbul, Turkey, on February 8, 2014, young demonstrators clashed with the police during a protest in response to a newly passed legislation that set many restrictions on the use of internet.  One protester, Semih said:
I pay my own internet bill but it's the government that decides what sites I can look at.  They want to control what we do on the internet.  It's repression.  But the young will not be repressed, we won't take it lying down.
Another young protester, Burak said:
One of the few remaining liberties we have is the internet and being able to communicate.  This is what they want to constrain.
This new law allows the government to block or filter any websites deemed to violate privacy or considered insulting without requiring a court order.  Additionally, the law allows the government to have infinite access to data and information on all internet users, whom would be unknowing of when and how the information is collected.
As many may know, Turkish Prime Minister Recep Tayyip Erdogan, who is also the leader of so-called "AKP" (Justice and Development Party) is not a fan of social media and networking on the internet.  In fact, during one of his speech in the past, he stated that Twitter is a scourge and the best examples of lies can be found there.  He thinks that social media is the worst menace to society.  However, it is important to note that this new internet law not only target social media users, but all internet users. He further supported this new law claiming that these regulations will not impose any censorship at all on the internet but rather will make it safer and freer for all users.  He says there was a need to protect privacy, and that is what it has been achieved with this new law.
According to some AKP oppositions, this new internet law is actually a reaction to evidence posted online about the corruption scandals happened in early December 2013.  By providing unlimited power over the internet data, the government would achieve in covering up embarrassing or incriminating allegations against the Prime Minister or his party.
While the Erdogan government thinks this new internet law provides more freedom and privacy and actually protects individual rights, the public, especially the youth does not agree.  What do you think about Turkey's new internet law?  Do you believe a desirable end can be promoted by prohibited means?  Do you think this new law is really protecting privacy or it is an attack against privacy?
Source:
Picture: