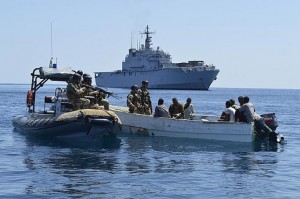 Written by Patrick Dowdle:
18 U.S.C. § 1651 is the United States' piracy statute. With a focus on the Fourth Circuit's 2012 decision in U.S. v. Dire, this case note analyzes the varying interpretations of § 1651, which have caused a split in U.S. case-law jurisprudence in recent years. In Dire, five Somali pirates mistook the U.S.S. Nicholas for a vulnerable merchant ship and attempted to pirate the vessel. On a counter-piracy mission in the Indian Ocean, the U.S. forces were able to capture the defendants and prevent the attempted piracy. The defendants were charged with and convicted under § 1651 with piracy, which defers to customary international law for its definition of piracy, and carries an automatic life sentence. The defendants in Dire argued that since they never successfully pirated the vessel, the Trial Court's decision was flawed.
In this note, I evaluate numerous problems accompanying § 1651, including its vagueness, its arguably unconstitutional automatic life-sentence and thus hindrance of judicial discretion, and its failure to properly align with customary international law. Since the U.S. Supreme Court denied certiorari, this note will look to international cases and foreign legislation for potential solutions to the problems stemming from both § 1651 and the UNCLOS definition of piracy jure gentium.
While the Dire defendants should not escape liability merely because the attempted piracy was frustrated, current U.S. piracy legislation is dated and should be amended in response to the piratical tactics and defenses of the modern day. Somalia is a hotbed for piracy around the Horn of Africa and while many States choose to turn a blind eye-patch, those that are actively combatting piracy must maintain clear legislation to provide for proper convictions. The impact of pirates on their victims is blatant, but the impact piracy has on the global economy, which is discussed in this note, is astounding. This case note concludes that a detailed legislative amendment to the U.S. Code is the most effective means of both addressing the issues arising from § 1651 and of rewarding military operations that are daring enough to confront this universal vexation.
Biography
My name is Patrick Dowdle and I am from Dobbs Ferry, New York. I graduated from Providence College in 2011 with a degree in History and will be graduating this spring from Pace Law School with a Certificate of International Law. My extracurricular activities at Pace include serving as an Articles Editor on Pace International Law Review and as a Writer for the International Criminal Court Moot Court Team. I enjoyed writing this note over the past few semesters and hope it is stimulating and informing for those interested in international law.