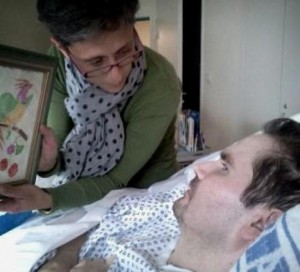 On June 25, the European Court of Human Rights (ECHR) announced that they would block a French ruling, made on the day prior by the Conseil d'État, which was to take a French citizen off life support.  Vincent Lambert suffered a severe head injury following a motorcycle accident in 2008, which has left him as a "tetraplegic", also known as a quadriplegic.  He also suffers from brain damage and exists in a vegetative state, being kept alive by artificial nutrition and hydration. Lambert's parents, sister, and half-brother cite religious beliefs for their desire to keep Vincent alive. However, his wife, nephew, and other siblings wish to cut off life support claiming that there has been no possibility of recovery over the past six years. Furthermore they argue that Lambert, a former psychiatric nurse, is suffering and had verbally expressed that he would not want to be kept alive artificially.
On January 11, 2014, Lambert's treating physician decided to end life support on January 13th, in compliance with France's Leonetti Act. In 2005, the Act became law and proposes that when medical treatment serves no other purpose than for artificial life support, the treatment can be ceased. Lambert's parents quickly sought an injunction in Administrative Court to cease the doctor's orders and also requested that Lambert be transferred to a specialized life-support facility. The Court denied the transfer but suspended the doctor's orders. A few weeks later, Lambert's wife and nephew appealed the decision to the Conseil d'État, France's Supreme Administrative Court. It was there where the Court soon requested a medical report from a panel of three doctors and then four months later, on June 24, declared that the doctor's decision to end life-support was lawful.
On June 23, in anticipation of the Conseil d'État's possible decision, Lambert's parents, sister, and half-brother filed a request with the ECHR under Rule 39, which provides procedural "interim measures" . Following the decision of the Conseil d'État, the ECHR temporarily suspended the French ruling while it examines the case. While one side of Lambert's family celebrates the hope that comes with this ruling, another side expresses concern over Lambert's continual suffering.
How do you think ECHR will decide and how do you think the ECHR should decide? Do you think the Court's decision will have a lasting impact on European nations?
Source:
[ECHR]
Image: