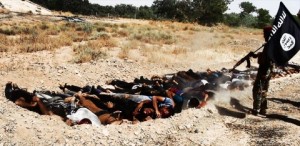 The United States and Great Britain are taking a step back from launching a rescue mission in Iraq.  On Thursday, August 13, 2014, the Pentagon declared that the United States' bombing of ISIS headquarters succeeded in diminishing the threat in the area; thus the planned rescue mission was ruled out for the moment.  A small team of Special Forces and US aid workers landed on Mount Sinjar in Iraq to assess the situation of the Iraqi Yazidis.  They said that the Yazidis have been receiving airdrops of food, water and medicine for days.
Rear Admiral John Kirby, the Pentagon Press Secretary, said late on Wednesday: "An evacuation mission is far less likely."  The White House stated that the decision to call off the rescue mission came after four air strikes on Saturday targeting ISIS positions in the area.  The most recent was a drone strike occurring at midday on Wednesday eastern time.  The United States intel in the area alleged that the situation seemed better than they expected, and that there were fewer people left on the mountain than they had thought.  How this could be is still a mystery, but although this seems to be good news, the Iraqi's are clearly still in dire need of help.
The thousands of people who are still stranded on the barren, rocky slopes of Mount Sinjar are the weakest of the weak, the elderly, the sick and very young, who could not trek to safety in Iraq's northern Kurdistan region.  The threat for non-Muslims, whether they are Iraqi Christians or Yazidis, is more real than ever.
Justine Greening, Britain's International Development Secretary,  said many people left on the mountain were in desperate straits, "10,000 have gone to a camp just over the border in Syria that the International Rescue Committee is building up – they have walked for 14 miles in searing temperatures of possibly up to 50C.  So they are very dehydrated, very malnourished. They need a huge amount of medical attention, so we will continue to work to help the people on the mountain."
The situation in Iraq seems to be getting worse and worse everyday, with the terror attacks looming over non-Muslims near and far.  Do you think the decision not to infiltrate at this time is a good one?  If ISIS is not quarantined now, what will the days and months to come bring, not only for Iraq but also for the world at large?
Source: TheGuardian
Picture: WashingtonPost