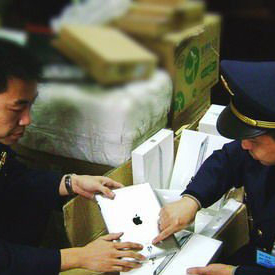 With the introduction of the new iPhone 6, iPhone 6 Plus, and the iWatch yesterday, Apple is once again breaking new grounds. In reality, as Apple has worked endlessly to ensure the launch of its products on the keynote date, they also face new accusations over human rights andlabor and safety violations at a factory run by Apple and its supplier, Catcher Technology in Suqian, China.
According to an undercover investigation conducted in August of 2014 by China Labor Watch (CLW) and Green America, Catcher Technology is exploiting its employees to various human rights violations, including excessive work hours and hazardous health conditions. Other violations include: locked safety exits; improper protection for handling hazardous materials; and "a grievance process that retaliates against workers for raising valid workplace issues." Employees were also forced to consistently work overtime without any pay.
Apple has responded to the investigate report by sending a team to investigate the allegations of the report. They have already instilled regulations to keep fire exits unblocked and to limit working hours to sixty hours a week. Although Apple has responded rather quickly to the report, Apple should have been more vigilant over Catcher Technology, as this is not the first time it faces such allegations. An investigation conducted in April of 2013 yielded similar violations; at the time of the incident, Apple and Catcher Technology instilled solutions to the violations.
Analysts at Bank of America and Merrill Lynch "expect the release of the iPhone 6 to add roughly 1 percent a month to China's export growth rate for the rest of this year." With a highly expected, almost given, sales return, what financial and legal duty does Apple have to ensure compliance with human rights, labor, and safety laws? How can the role of a major investment company, like Apple, influence other companies, who are less inclined to regard human rights, to comply with international labor and employment standards and laws? Since these new allegations will most likely not affect the sales of the iPhone, what does this say about the materialistic society we have become?
Sources: Green America: An Investigative Report of Catcher Technology Co. Ltd (Suqian), an Apple Parts Manufacturer;  China Labor Watch Press Release; WSJ: Report Alleges Labor Violations at Apple Supplier in China (Sept. 4, 2014); NYT