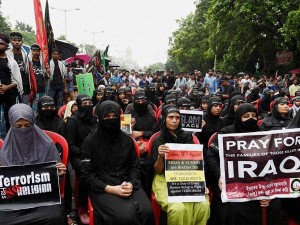 The 27th Human Rights Council, held at the UN office in Geneva, heard a special session regarding human rights in Iraq, on Monday September 1st.  Ms. Flavia Pansieri, the United Nations Deputy High Commissioner for Human Rights, addressed the attending States, highlighting the "relentless violence and unrest" in Iraq. Pansieri spoke to an endless list of ISIS acts in violation of international law including: slavery, ethnic cleansing, torture, sexual abuse, and mass civilian killing. It was stressed that "systematic and intentional attacks on civilians may constitute war crimes and crimes against humanity." Pansieri concluded by urging the international community to employ greater efforts in attempt to put an end to these grave violations of human rights, to protect the people of Iraq, and to "ensure that any individuals who have participated in, or supported, the commission of these crimes are held accountable in accordance with the law."
In a resolution statement submitted to the UN General Assembly regarding this matter, recommendations to the government of Iraq included implementing investigations of all torture allegations and measures of redress/accountability in response to crimes against humanity. Further, the resolution suggests all crimes against humanity should be explicitly defined and proscribed.
Interestingly, the Women's International League for Freedom and Peace (WILPF), offers valid criticism of the aforementioned session and resolution. WILPF is an international organization, and a major advocate for political and social justice worldwide. WILPF, the Iraqi Women's Network, and 92 similar organizations work together as activists in battling crimes against humanity, particularly crimes against women.
These organizations jointly submitted statements to the council regarding this special session. WILPF regrets, however, "that this resolution does not include any gender perspective," as Pansieri only briefly mentioned the plights Iraqi women face, and other member States raised specific concerns regarding crimes against women. Another valid issue is that women are predominately depicted as victims and rarely portrayed as peacemakers or activists. WILPF accurately stresses that Iraqi women are continually engaged in the effort to maintain peace, to protect their families, and to prevent "heinous consequences" to their communities. The organization rightfully argues, "women should be equally included in the decision-making and peace process, as required by the United Nations Security Council resolution 1325," because peace processes that have neglected to take women into account have "proven to be unsustainable."
It is imperative that more attention be drawn to the horrific tragedies that women are faced with in regions of conflict like Iraq. It is equally imperative that women are recognized as active participants in the efforts toward peace and are included in the decision-making process, as required by the Security Council resolution 1325. Women are the mothers, daughters, and protectors of the world and deserve the right to take a stance in the matters of their own safety, and the safety of their families. Do you agree that peace is unsustainable without women? What repercussions can/should be enforced if these crimes are not addressed? Can the international community disregard the requirement to include women in these pertinent issues?
Sources: United Nations, Women's International League for Freedom and Peace, UN Human Rights