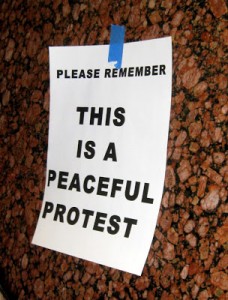 On November 25, 2013 the Spanish Congressional committee on home affairs was due to adopt a public security bill, and will then be debated and voted on in the next few days. The proposed law would allow authorities to fine people who hold spontaneous protests or show lack of respect for law enforcement officers. The purpose of this law is to protect the safety of individuals from disruptive protests. In 2013, the Interior Ministry reported 323 disturbances out of 33,124 demonstrations; and in January through March 2014 disturbances were reported in 62 out of 10,837 demonstrations.
The law is expands on a current public security law and would additionally allow for administrative sanctions for minor to very serious infractions; the penalties would range from $125 to $752,972. This administrative process would bypass the courts without a guarantee of judicial relief.
This law would suppress the basic rights of freedom of speech and belief, which is stated in the preamble of The Universal Declaration of Human Rights. In order to limit the restrictions on the basic rights of freedom on speech, "the intensity of state interference must be necessary to attain a legitimate purpose, and any restriction must be proportionate."
Even though the reports of disturbances are minor in proportion to the number of demonstrations occurring in Span recently; I believe this is a violation of the right to free speech. Giving the authorities the ability to fine citizens for peaceful spontaneous demonstrations is not proportional to the legitimate government interest. The protection of citizens from a disruption in a demonstration is not a legitimate reason to limit the guarantee of judicial relief. However, if a disruption where to erupt at a spontaneous demonstration that is not peaceful, then the law is a state interference that is necessary to attain a legitimate purpose.
Do you think this law would satisfy the intensity of the state's interference necessary to attain a legitimate purpose? Do you think this law will protect citizens from disruptions in spontaneous disruptions?
Source: Human Rights Watch; Universal Declaration of Human Rights