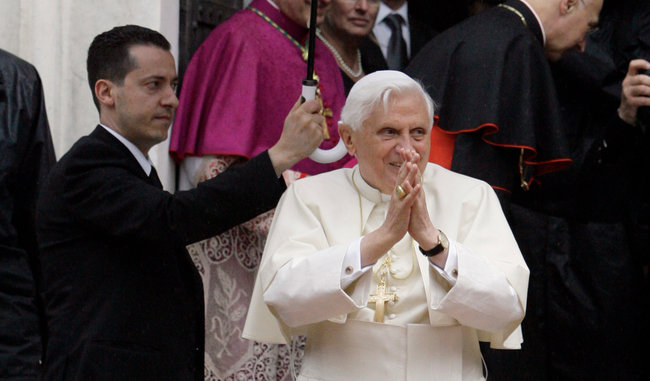 Paolo Gabriele was arrested on May 23, 2012 after being accused of leaking confidential Vatican documents.  Mr. Gabriele was a papal butler at the time the documents began to surface. He had spent two months in secure confinement before being released to house arrest this past weekend.
According to a New York Times article "[e]arlier this year, sensitive Vatican documents began appearing in the Italian news media and in a book." The leak of these secret documents has exposed the guarded inner workings of the Vatican and revealed issues of growing turmoil, power plays, mismanagement, and corruption.
The Vatican launched their own investigation of the matter and found confidential documents at Mr. Gabriele's apartment.  The Vatican gendarmes arrested Mr. Gabriele in May and have recently submitted a report on the specifics of their investigative findings.  Some insiders claim that Mr. Gabriele was not the only person leaking documents, but at this time they seem to be uncertain of any other participants.
Mr. Gabriele's lawyers, Carlo Fusco and Cristiana Arru, argue that Mr. Gabriele's actions were done out of a "desire to help" the church and the pope.  They seem to be arguing that the release of these documents was meant to assist the church in some way, but I am not sure that many people are buying that argument.
The Vatican spokesman, Rev. Federico Lombardi, stated that the final arguments of the Vatican prosecutor will take place in a couple of weeks.  At that point a Vatican tribunal will decide whether or not to take Mr. Gabriele to trial.  If the case does go to trial Mr. Gabriele could face up to six years in prison; however, the pope does have the power to intervene at any time in the process. The pope also has the power to grant a pardon for Mr. Gabriele, but at this point it is unclear how the pope wishes to proceed on this case.
Is this possible sentence too harsh, too light, or just right? Do you think that Mr. Gabriele acted alone? Do you think that the release of these documents has helped or hurt the public image of the Vatican? Do you think the pope will grant a pardon for Mr. Gabriele?
SOURCE: The New York Times
PICTURE: Luca Bruno/Associated Press