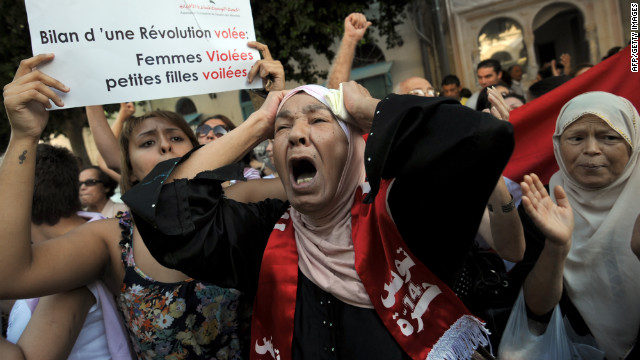 A couple in Tunisia were stopped by a police patrol one night with the man taken to a nearby ATM in an attempt to extort money, while the other officers raped the woman in the back of the patrol car.  When confronted about the allegations, the police claimed the couple were found in an "immoral" position and charged the couple with Indecency, a charge that carries a six-month prison sentence.  Protesters have vehemently voiced their outrage and rightfully so, who can the public trust when the police not only rape and extort the people they are sworn to protect, but also fabricate crimes to deflect attention?
Every person, regardless of their country of origin, deserves to have a police department that they trust to protect them.  When the police are free to concoct a story in order to protect themselves it destroys any semblance of trust in that department.  Furthermore, what does it say about the justice system that they will charge a couple with a crime based solely on an officers account without any evidence?
Without evidence of a crime, an innocent person can be thrown in jail without any protections from the government.  It is important to realize that the couple's habeas corpus rights were violated the instant they were detained for Indecency.  What amount of power does the word of the police officer carry in the eyes of the court?  In my opinion, regardless of the position of the person alleging a crime, there must be a minimum amount of evidence that supports a probable cause the crime was committed.  Police officers, while the protectors of the law, are not above it and still must show probable cause that a crime has been committed.
If the facts of this case were extended to ordinary citizens, anyone could get a person they disliked thrown in jail based on a lie.  Cases like the one in Tunisia point out the flaws in the justice system and the dangers of placing too much power in the words of the police department.  However, is there a different way?  How can the justice system work without placing trust in the police?
SOURCE: Los Angeles Times
PHOTOGRAPH: Turner.com