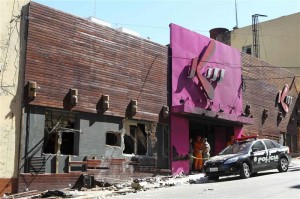 More than 230 people were killed in a tragic fire that broke out in a crowded night-club in Brazil. The club's walls were lined primarily with college students who were partying until the early hours on Sunday. The nightclub was located in Santa Maria, a university city of approximately 225,000 people. The fire reportedly began after the band lit fireworks while performing on stage.
The club rapidly filled with smoke, allegedly causing toxic smoke inhalation which resulted in many of those reported deaths. The club's sole exit was blocked by a stampede of attendees attempting to flee. Firefighters were thus prevented from ensuing rescue activity. With the help of several students, firefighters used sledgehammers to hack away at windows and walls with the hope of providing additional pathways for exit.
Survivor Luana Santos Silv reported "There was so much smoke and fire, it was complete panic, and it took a long time for people to get out, there were so many dead." The fire hadn't begun until band-members pointed the flares upward at the ceiling. The ceiling, which looked to be old and worn thin, could not withstand the heat. The fire spread quickly and firefighters stood little chance to fight back. In addition to the 232 reported dead, 117 people were treated in hospitals, mainly for having inhaled poisonous gases. Others were treated for severe burns.
It seems that the club-owners (in addition to the band) may have a lawsuit on their hands. Doctor Beltrame, a professor at the medical school of the Federal University of Santa Maria, stated that he was told that the club was holding occupants far exceeding its capacity. Beltrame went to the city's Caridade Hospital to help victims, reported that several of the victims died of asphyxiation; many lost their sense of direction after inhaling the toxic smoke and were unable to locate the exit, ending up in the bathroom instead.
I can't help but wonder why there was only one exit. I also wonder if the club-owners, who surely thought they would reap financial benefits by letting in more attendees, realize that their negligence is going to cost them the money they hoped to make, and then some.
The world is forced to face yet another tragedy. We can only pray for the families left behind.
SOURCE: The Washington Post