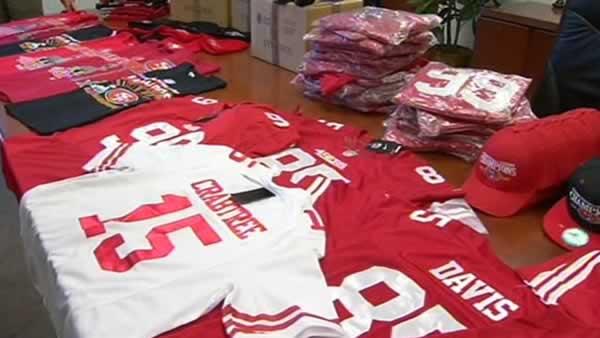 With Super Bowl XLVII preparations reaching their climax, the NFL legal teams are still hard at work stopping counterfeit products of their marquee event from reaching the marketplace.  US law enforcement officials seized a record $13.6 Million dollars in fake goods and arrested over 20 people in connection with the illegal products.  Additionally, over 300 websites were disabled for selling products bearing both NFL and Super Bowl trademarks.
Many fans cannot tell the difference between the authentic goods and cheap knockoffs made overseas which can often be made and sold for a fraction of the price.  Officially licensed material is often expensive and harder to find, while rip-offs are being sold all over the internet and often on street corners in New Orleans, the site of the Super Bowl in 2013.
Counterfeits are one of the biggest problems for holders of trademarked goods, essentially stealing from the hard work of American businesses who have worked hard to build a trusted brand.  The sale of counterfeit goods also undermines the integrity of the economy, taking away profits from the honest companies and allegedly fueling crime overseas.
After being in New Orleans in the past week, I can personally attest to the amount of goods bearing Super Bowl and NFL logos being sold, I also could not tell which ones were authentic or fake.  This is an epidemic that doesn't solely plague the NFL and is undermining their efforts to profit off of their championship.
The questions that I have for the International Law community are whether there are any surefire ways to curb the spread of counterfeit products and if so, how can the NFL ensure their trademarked material is protected?  Is it simply a problem that will forever exist or are there ways that the NFL can eliminate the counterfeit market?  Would the inclusion of an "Officially Licensed" tag do any good or would counterfeiters simply add their own version?  What International Intellectual Property protections are in place to help stem this problem or is there a need for a global standard?
Source:  Business Insider
Picture: ABC Local