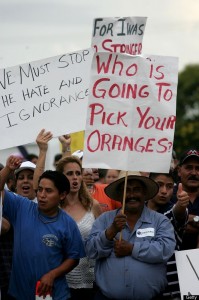 In June 2012, the Obama Administration announced that it would put an end to deportations and grant work permits for eligible immigrant students. The policy, Deferred Action for Childhood Arrivals, was intended to affect mainly young, undocumented immigrants who entered the United States as children. President Obama had intended for this population to receive the same benefits proposed in his Dream Act that passed in the House of Representatives but failed, in 2010, in the Senate. Obama's plan is to "enable Dream Act-eligible young people, often called DREAMers, to stay in the United States without fear of deportation…"
Aside from the benefits that DACA should achieve for young immigrants, Department of Homeland Security Secretary, Janet Napolitano, points out how the nation as a whole will benefit in effectively directing its resources and security efforts: "It will help us to continue to streamline immigration enforcement and ensure that resources are not spent pursuing the removal of low-priority cases involving productive young people."
Undocumented immigrants have expressed their gratitude and delight at the President's response to immigrants' rights groups, which they say have gone ignored for decades.
Some states, nor surprisingly, were reluctant to endorse and cooperate under the Obama Administration's DACA policy. Even after many of the immigrants obtained the necessary paperwork and were granted the ability to stay and work legally in the United States for two years, state officials found ways to hinder their adjustment to life in the United States. For example, Michigan, Iowa, Arizona, Nebraska and North Carolina banned those approved immigrants from obtaining driver's licenses. It is easy to see how not being able to obtain a driver's license could impair one's ability to work and make use of DACA's practical initiatives. The Huffington Post
Recently, however, Michigan Secretary of State, Ruth Johnson, announced that, after the state conducted its review it found deferred action recipients to be legally eligible and now permits them to apply for driver's licenses. Michigan officials announced that they are looking forward to "a more welcoming and inclusive Michigan." Iowa also decided to amend its policies concerning driver's licenses for DACA-approved immigrants. Lets hope the other three states (Arizona, Nebraska, and North Carolina) follow suit. The Huffington Post
Why do you think Michigan and Iowa decided to switch its stance on immigration policy?