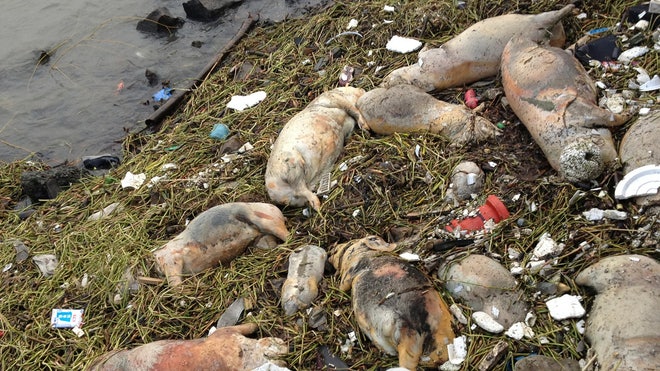 Photo Source: Image Provided by Fox News available at http://www.foxnews.com/world/2013/03/11/china-pulls-out-2800-adult-baby-pigs-from-shanghai-river-after-contaminated/
"A surge in the dumping of dead pigs upstream from Shanghai – with more than 2,800 carcasses floating into the financial hub through Monday – has followed a police campaign to curb the illicit trade in sick pig parts." The government's effort to keep this infected pork off tables has sparked new fears among the Shanghai residents over the possibility of contamination of the city's water supply. Despite the 2,813-pig tally, the government vehemently denied any contamination of the water quality. "Shanghai's Agriculture Committee said authorities don't know what caused the pigs to die, but that they have detected a sometimes-fatal pig disease in at least one of the carcasses." The disease they found is associated with the porcine circovirus, which the committee contends does not affect humans or other livestock. Despite these comments, there are still 2,800 pigs that may be holding other diseases that are dangerous to the water supply.
This situation was first brought to the public eye, when Huang Beibei, a lifetime resident of Shanghai, posted photos of the pig carcasses to his blog. He wrote, "this is the water we are drinking…what is the government doing to address this?" He raises a good point, this seems like this could be a problem that will eventually lead to health concerns down the line, despite the government's current denials.
China's Ministry of Public Security has made efforts to resolve this food safety problem a priority, as gangs have purchased diseased pigs and subsequently processed them for illegal profits. These measures have been successful and led to arrests and confiscations. Despite the increased successful efforts to crack down on these gangs and curtail the illegal trade of contaminated pork, the problem of pig dumping has been worse than ever.
1)    What do you think the government should do?
2)    Should they be more concerned about these dead carcasses flooding the water supply?
3)    What do you believe can be done for by the government to enable it to continue its fight against the illegal pig trade, while also properly regulating the disposal of dead pigs to ensure the safe water supply of Shanghai's citizens?
Source: Fox News