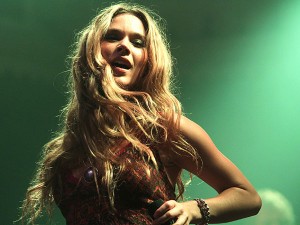 On Wednesday, April 3, 2013, two men were found guilty of plotting to kill and rob British singer-songwriter Joss Stone. A jury unanimously convicted Junior Bradshaw and Kevin Liverpool of conspiracy to murder and conspiracy to rob the singer.
The two men were arrested in June 2011, a few miles from Stone's home in Devon, southwest England. Residents near Stone's home had alerted police after the men stopped to ask for directions to Stone's home. They even asked a postman for directions and showed the postman a photograph of the popular singer. Soon after, police stopped them and then arrested them after finding several weapons in their car including a samurai sword, hammers and a metal spike. This information was admitted into evidence along with notes found in Bradshaw and Liverpool's home about their plan to decapitate Stone and dump her body in the river. Other admitted evidence included text messages by Liverpool about his plan to rob someone who made a lot of money and proof that he bought a semi-automatic handgun in January 2011.
The Judge said to Liverpool during his sentencing that "[i]t may have been, to use the colloquial. 'a crazy scheme from a crazy person and must be likely to fail' but when you decided to travel from Manchester to Devon you intended to carry it out."
Liverpool was sentenced to life in prison but will be eligible for parole after serving a minimum of ten years and eight months. Bradshaw's sentencing will be at a later date.
Also, when the men were arrested in 2011 outside of Stone's home, she actually was home and her door was unlocked. Thankfully Stone's neighbors were suspicious of these men and called the police before they could have actually carried out their plans.
I think the Court got this right by charging Liverpool with life in prison and I am sure Bradshaw will receive a similar sentence. Even though they are burnt out idiots and actually thought someone would give them directions to her home while driving around in a sketchy, beat up car, I believe the Court could not look past all of the weapons the police found in their car, the fact that they actually drove to her hometown or the creepy note that they wanted to decapitate her. I am glad these psychos are off the street, at least for now.
Do you think the sentencing was just or too harsh?
SOURCE: CNN, Daily Mail, Yorkshire Post
PHOTO SOURCE: GigWise