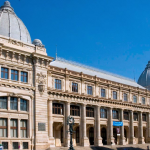 Next month, OlgaDogaru, and her son, Radu, are on trial in Romania for what , Ernest Oberlander-Tarnoveanu, described as a "barbarian crime against humanity." Olga's 29-year-old son admitted to stealing seven pieces of artwork from the Kunsthal museum in Rotterdam back in October. Olga, in an effort to protect her son, told investigators that she burned the paintings in her stove.
Why the public outcry and heated reactions? The paintings and drawings were constructed and signed by Picasso, Matisse, Monet, Gaugin, Lucian Freud and Meyer de Haan. They are said to be worth tens of millions of dollars. Radu was arrested in Romania in January and his mother thought that telling investigators about her destruction of the evidence would protect her son. However, at a hearing conducted last week, Olga denied having incinerated the artwork.
The hearing was scheduled for the purpose of  reviewing a request made by Olga's attorney, Radu Catalin Dancu, to release Olga and her son from custody pending the start of their trial. Since the hearing, the whereabouts of the paintings have become a mystery. Olga explained that she concocted the story about burning the artwork because "I believed that what I said before was the best thing at the moment, that this was the right thing to do." Olga's most recent claim contradicts findings by the National History Museum in Bucharest, that that forensic scientists had found ash material consistent with burnt paintings. Olga's attorney challenged the findings and insisting that he see a final report issued by the forensic scientists.
The most serious charge was brought against Olga as a result of her earlier claim to have destroyed the artwork.  "Under Romanian law, the crime of 'destruction with very serious consequences,' one of three charges against Mrs. Dogaru, carries a sentence of 3 to 10 years — far longer than the punishment for her two other alleged crimes, 'supporting a criminal group' and 'assisting criminals.' " The New York Times. Evidence suggesting that the paintings were in fact preserved may save Olga from having to serve extended jail time.
For more information, please see The New York Times.