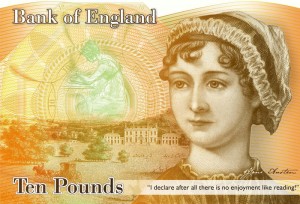 Last month, the Bank of England announced its intention to replace Charles Darwin with Jane Austen as the new face on the £10 note. Austen's image was expected to appear in 2017, around the same time that Elizabeth Fry's portrait, which currently appears on England's five-pound note, would be replaced with the image of Winston Churchill. Austen was suggested after public outcry in reaction to a potentially all-male British currency. Mark Carney, the new governor of the Bank of England, seemed to agree, or at least understand, the public reaction: "We've listened, and we fully understand the concerns that were raised by many people…We believe that our notes should celebrate the full diversity of British historical figures and their contributions in a wide range of fields."
Caroline Criado-Perez, a blogger and co-founder of the Web site The Women's Room, led a campaign urging the bank committee to adhere to the provisions of the 2010 Equality Act which "oblig[es] public institutions to keep in mind the goal of gender equality in all matters they decide." Criado-Perez proudly delivered over 35,000 supportive signatures to the bank's front door. $20,000 in donations were made in the event that a legal challenge of the bank's decision were to ensue.
Criado-Perez, in response to the bank's bid to honor Austen, proclaimed it to be "a brilliant day for women." However, that same day, Criado-Perez received death threats over Twitter. Three female journalists received bomb threats. Stella Creasy, a Labour Party legislator, received the following threat, also via Twitter: "I will rape you tomorrow at 9pm. Shall we meet near your house?" According to the New York Times, so far two men have been arrested in connection with the harassment, while Scotland Yard's electronic-crime unit investigates the countless other Twitter attacks.
It is unclear whether the Twitter attacks are in response to the bank's suggestion of Austen or a reaction to the bigger picture – the widespread support for and insistence that the proud faces of women appear on British currency. Carney himself was confident that Austen would "prove a popular choice." Devoney Looser, a professor of English at Arizona State University and an Austen specialist, pointed out that "[Austen] has a wide popular and a varied political appeal…She's embraced by conservatives and progressives both."
Nonetheless, the attacks from anonymous Twitter users are being investigated and Twitter worked towards tightening its global policy on reporting abuse. It will be interesting to see what repercussions stem from this social media battle and what price the verbal attackers will have to pay.
What do you think prompted these offensive Twitter attacks?
Sources: The Los Angeles Times; The New York Times