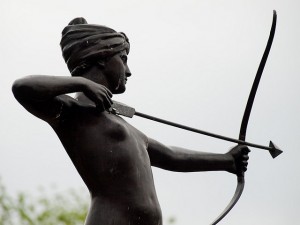 A woman identifying herself as "Diana, the Hunter" has murdered two male bus drivers in the Mexico's Ciudad Juarez, bordering El Paso, Texas. The unidentified woman has allegedly boarded the buses, with blonde hair as her disguise, shooting the drivers at a close range. Media stations in the city have announced they have received e-mail communications from "Diana" in which she writes: "I'm an instrument that will avenge [the attacks against] several women…We seem weak to society, but we're truly not. We're courageous and, if they don't show respect to us, we will make them respect us by our own means. We women of Juarez are strong." (CNN)  "Diana's" attacks are reportedly in retaliation against bus drivers who have raped women coming home from working in maquiladoras—foreign assembly plants. About half of Ciudad Juarez's bus drivers have not shown up to work out of fear that they will be a victim of the next "random" attack. The attacker's moniker is said to be representative of the Roman goddess of hunting.
The city of Ciudad Juarez became internationally known after a large number of women, particularly young and single, were murdered. The women went missing and their bodies were then found in graves in the outskirts of the city. It was later determined many were raped, tortured, and mutilated before being killed. The murders received wide spread attention due to the governments failure in not only preventing the violence, but also failing to solve the cases. Many have used the term "femicide" to describe the events in Ciudad Juarez, a term first introduced at the International Tribunal on Crimes Against Women in Brussels. The term has been defined as the killing of women by men, simply because they are women. Amnesty International has reported that 370 women were murdered between 1993 and 2005 in the city.
Many point to the maquiladoras as playing a role in the city's femicide. The industries cheap labor and poor working conditions have found young women to be the most desirable employees, thus diminishing their power in society. The industry sees their employees as dispensable, and in light of these murders, society does too.  Do you think these recent events will lead to a probe into the maquiladoras? Is this a random attack or will it grow into a women's rights movement?
Sources: