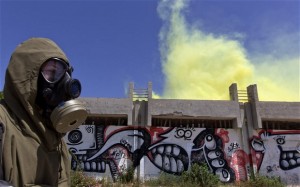 A big issue, and rightfully so, that is currently filling every news feed is the use of chemical weapons in Syria against civilians. While this issue needs to be addressed immediately, Syria is not the only place where this type of heinous crime has been committed. Although, it was all the way back in 2008 the Israeli assault on the Gaza strip was one of the most devastating the Palestinians have ever faced. Thousands of innocent people were killed, homes destroyed, and over a billion dollars worth in damages. Yet the situation somehow managed to get worse than this.
During the assault Israel had bombed a United Nations relief & Work Agency using chemical weapons containing white phosphorus. White phosphorus burns on contact with human skin and can cause death when inhaled. The use of this chemical is currently allowed for smoke screen but is considered a war crime when used against people. When initially confronted with the information Israel denied the allegations. Later on they claimed it was only used as a smoke screen to protect their soldiers from firing by the opposite side. This defense was also later to be found untrue and the most Israel had to say in the end was "it was a grave error".
Ex-South African Judge Richard Goldstone headed an investigation and report after the attack desisted back in 2008. His report did not get much attention in the U.S media but rather all that was focused on was Israel's denial of all charges alleged. Some reporters even went as far as to criticize Goldstone for not getting more information from the Israeli perspective meanwhile they were the ones who were not cooperating during his investigation of the chemical weapons usage. This is not a matter of placing blame but rather holding those guilty accountable. If the United States was fully aware of Israel's actions and did not punish them but instead helped them sweep it under the rug, then why should another country such as Syria care about doing the same thing? It is true the relationship between the U.S and Israel differs vastly from the one the U.S has with Syria, however, this provides no justification for allowing one country to do something as horrendous as use chemical weapons against innocent civilians and going to war with the other. All who commit these depraved crimes evidencing no regard for human life should be punished accordingly to serve as a lesson for those who may contemplate doing the same in the future.
http://www.clevelandchallenger.com