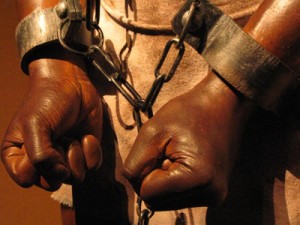 Ralph Gonsalves, the Prime Minister of Saint Vincent and the Grenadines, announced that his country, along with 14 others in the Caribbean, intend to sue the governments of the United Kingdom, France, and the Netherlands. Prime Minister Gonsalves stated, "the European nations must pay for their deeds." And by pay, Gonzaleves means initiate reparations for the "lingering legacy of the Atlantic slave trade." Gonsalves made his country's intentions known this past Friday at the United Nations General Assembly. The Caribbean Community, otherwise known as Caricom, which attends to regional economic issues, is bringing forth the lawsuits.  Caricom has hired the British law firm Leigh Day, known for their successful procurement of government compensation for hundreds of Kenyans who were maimed by the United Kingdom during the Mau Mau rebellion. Under the terms of the settlement, the United Kingdom paid over 20 million pounds to surviving Kenyans and issued a statement of regret.
The current lawsuits will be brought before the United Nations International Court of Justice in the Netherlands. While the amount of requested reparations has not been announced, Caricom intends to right a historical wrong, "the awful legacy of these crimes against humanity – a legacy which exists today . . . ought to be repaired for the developmental benefit of our Caribbean societies and all our peoples." The three countries listed as defendants are historically responsible for the slave trade in certain parts of the Caribbean; the United Kingdom for slavery in the English-speaking countries, France for slavery in Haiti, and the Netherlands for Suriname, a former Dutch colony on the edge of South America.
The first step in international disputes of this kind is to seek a negotiated settlement with the defending governments. Jamaica, Antigua, and Barbuda have already created national commissions on reparations, while the remaining countries in Caricom have agreed to follow suit. All 14 counties have voted unanimously to advance this agenda despite an intensely long legal battle ahead.
Should there be a statute of limitations in regards to international law and the payment of reparations?
Do you think Caricom has the right to bring this case before the United Nations International Court of Justice? Is this the start of a united Caribbean front similar to the EU?
Why was America not listed as a defendant in this round of litigation?