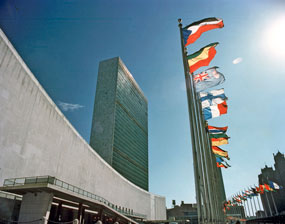 The United Nations Treaty Event took place last week, highlighting arms trade regulations and children's rights advocacy. The annual meeting brings countries together to enact treaties addressing critical international issues. This year 59 states participated in 113 treaty actions.
The Security-General of the United Nations invites Governments and Heads of States to the annual event to participate in treaty signatures and ratifications to incite support for international treaties in a more time effective way. The event takes place during the General Assembly session and the Security-General selects particular treaties to be the focus of that year. The UN also uses this event to raise public awareness of international law.
The United States was one of the 27 countries that signed the Arms Trade Treaty (ATT) and U.S. Secretary of State John Kerry was the one to sign his name. The treaty regulates all conventional arms, from battle tanks to warships.  A spokesperson for UN's Secretary-General found it significant that the largest arms-exporting country in the world, the United States, now has role in arms regulation.
Russia made the first move at the Event to shed light on advancing child rights. Their Foreign Minister Sergey Lavrov announced the country's ratification of an Optional Protocol, highlighting efforts for protecting children from violence and exploitation through sale, pornography and prostitution. The Convention on the Rights of the Child set non-negotiable standards and obligations on their proposed Optional Protocols. Other such Protocols involved the prohibition of child soldiers and giving children a voice in the UN in regards to reporting abuse of their rights.
While the Secretary-General's Special Representative on Violence against Children was happy that her cause was being emphasized, she stated it "is just the start of a very long process, and a continuous process of national implementation." (UN News)
Other popular topics included Rights of Persons with Disabilities, Protocol to Eliminate Illicit Trade in Tobacco Products, and Comprehensive Nuclear-Test-Bans.
Is the UN Treaty Event an effective way to get countries involved in international issues? Do you think the UN Treaty Event got their focus right this year? Are there any other international issues do you think the UN failed to highlight?
Source: UN News
Photo Source: UN Treaty