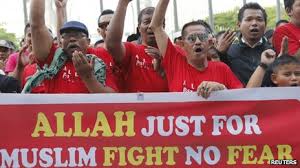 Malaysia has increased religious tensions between its predominately Muslim population and its Christian minority groups. On Monday, a Malaysian court ruled that a Christian Newspaper may not use the word "Allah" when referring to God. The Malaysian appeals court overturned a 2009 decision that allowed Malay-language newspaper, The Herald, to use the word "Allah". The decision was intended to protect Islam, Malaysia's official religion, from conversions. According to the chief judge, the use of the word "Allah" is not central to the faith in Christianity and the use of the word by non-Muslims will only cause confusion to the community. Also the chief justice said that the biggest threat to Islam in the country was the "propagation of other religions to the followers of Islam."
This recent decision has outraged Christian and other religious minority groups in Malaysia. They emphasize that Malaysia's constitution says, "Islam is the religion of the federation but other religions may be practiced in peace and harmony." They argue that God is part of every religion and Christians in Indonesia and much of the Arab world continue to use the word without opposition from Islamic authorities.
This is clearly an infringement on the rights of minority religious groups to freely exercise their beliefs. I agree with the argument presented by the Christian minorities that God is part of every religion and the word "Allah" should not be exclusive to Islam. I would agree with the judges of this decision, if the word were being used in a derogatory or damaging manner. The main reason behind the decision, to protect Islam from conversions, seems inadequate. By allowing The Herald to use the word does not seem to result in any propagation of other religions to Muslims but rather it is propagation to the Christian readers of The Herald. Christian minorities have already said that they will appeal this decision to the highest court in Malaysia and it will be interesting to see how this case turns out.
-Do you believe that the Chief Judge's reasoning behind his decision was proper?
-If this case were brought in the US, would there be any different arguments and outcomes?
Picture: BBC News