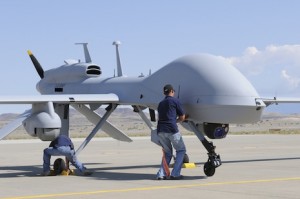 Amnesty International and Human Rights Watch recently released reports on civilian deaths due to U.S. drone strikes in Pakistan and Yemen. The groups allege the drone strikes violate international law and could possibly be considered war crimes. They have demanded that the Obama administration and Congress investigate, and end, the policy of secrecy on the attacks.
Article 2(4) of the U.N. Charter prohibits the threat or use of force by one state against another. However, two exceptions to Article 2(4) are relevant to the question of whether US drone strikes in Pakistan and Yemen are lawful: (1) when the use of force is carried out with the consent of the host state; and (2) when the use of force is in self-defense in response to an armed attack or an imminent threat, and where the host state is unwilling or unable to take appropriate action. Recently, Pakistan's Prime Minister Nawaz Sharif has publicly urged Obama to halt such attacks, however, secret CIA documents and diplomatic memos reveal that the Pakistani government has previously endorsed and consented to such strikes.
Amnesty International and the Human Rights Watch are not the only institutions that are critical of Obama's use of drones. On September 18, 2013, the United Nation's issued a critical report that called for more transparency on America's use of drones. The report notes: "[t]he single greatest obstacle to an evaluation of the civilian impact of drone strikes is lack of transparency, which makes it extremely difficult to assess claims of precision targeting objectively." The report further suggests that the secrecy behind the strikes "creates an accountability vacuum" and makes it nearly impossible for victims to seek redress. The UN's report mainly blames the CIA for this, stating, "[i]n the United States, the involvement of CIA in lethal counter-terrorism operations in Pakistan and Yemen has created an almost insurmountable obstacle to transparency."
Do you support America's use of drones overseas? Do you think there should be more transparency regarding these military tactics? 
Photo Credit: The New Yorker
Sources: