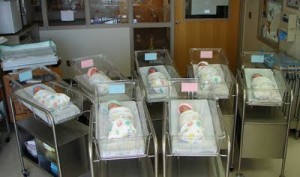 From the 1970's to the 1990's, babies went missing from Serbian hospitals. Many of the missing babies were born healthy. A few days later, the parents would be informed that their baby died. The bodies of the children were never released to the families.
An example of a missing child is the case of Zorica Jovanović. This case deals with Zorica Jovanović who gave birth in the Ćuprija Medical Centre in Serbia. Her child was born healthy and without any complications on October 28, 1983. She was told two days later, that she would be released from the hospital with her newborn the following day. Her son was taken to the room for newborns and the following morning, the doctor informed her that her baby died.
The autopsy of the baby was conducted in Belgrade, which was apparently not part of the hospital's average procedures. The body and the results from the autopsy were never released to the parents.
Ms. Jovanović requested all of the documents in regards to her baby's death on October 24, 2002. The hospital alleged that they only had information that the cause of death was unknown because their archives had been destroyed due to a flood. The Municipality of Ćuprija informed the her that her son's death had never been registered, only his birth had been recorded.
Ms. Jovanović's husband filed a criminal complaint against the hospital staff alleging that they were responsible for his son's disappearance. He filed this complaint after hearing stories on the news that were similar to his own son's. They alleged that their son had been given up illegally for adoption.
On March 26, 2013, the European Court of Human Rights held in the case of Zorica Jovanović v. Serbia, that Article 8 of the European Convention on Human Rights had been violated. Article 8 deals with the right to respect for private and family life. The court held that the state failed to provide the family with adequate information regarding her son and the circumstances about his death, which was a violation of Article 8. The Court also held that Serbia needs to provide redress to all of the parents who were in similar  circumstances.
Do you agree with the Court's decision that the state should provide relief for each individual family? Should parent's be the only ones responsible for providing funeral arrangements for their baby if the baby dies in the hospital? Do you think the court is taking proper remedies to alleviate this situation?
Sources: HUDOC 
Image: Google