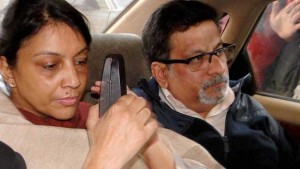 An Indian couple have been convicted of murdering their daughter Aarushi Talwar and their Nepalese servant, Hemraj Banjade. The 14-year-old only daughter of dentists Rajesh and Nupur Talwar was found with her throat slit and a fatal head injury in her own bedroom, next door to her parents' room at their home. Suspicion initially fell on the servant until his body was found on the Talwars' roof just one day later. Investigators said the Talwars killed Aarushi in a fit of rage after finding her with the 45-year-old servant in an "objectionable position", suggesting the double murder was a so-called honour killing.
The prosecutors argued that Aarushi's throat was slit in a manner indicating someone with medical skills, and that the two victims were hit by a golf club that was initially hidden by the Talwars. The Talwars' denied murder, destroying evidence and misleading investigators. This is the one of the most talked about crimes in India due to the sexual rumours and allegations of investigative mishandling and media bias. Today the couple was finally sentenced to life in prison rather than the suggested death penalty.
What is wrong with some people? You can imagine my reaction immediately after reading this article. I was appalled after reading this and had to write about it. Being from the U.S., I found this honor killing egregious. If many of you do not know, India's culture has strong patriarchal views about women and their position in society. In traditional male dominated societies, such as India, women are dependent first on their father and then on their husband, whom they are expected to obey. Women are viewed as property and not as individuals. Honour killings were deemed acceptable all through India's history but, in today's age, there is no room for such heinous acts. I am certainly in no position to judge anyone, but after reading numerous articles about this crime, I believe that the parents actually committed this murder as an honour killing. I also agree that giving them a life sentence was a better punishment than the death sentence. Only then will they be able to pay for their horrible act by having to live with the consequence of their act for the rest of their lives.
I invite any and all of you to read the articles surrounding this crime and the sentencing and let me know what you think about this. Do you believe that, given the facts, the sentence was appropriate? Do you believe that the parents actually committed the crime? Feel free to express any opinions about honour killings and women's rights in India.
Sources: BBC; Telegraph; The Guardian
Pictures: Times of Oman