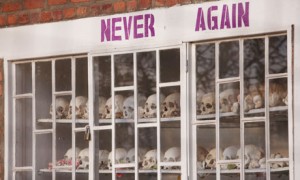 Deputy Secretary-General Jan Eliasson addressed the issue of the failure to see early warning signs to prevent genocide at the event commemorating 20th anniversary of the genocide in Rwanda.  The event is formerly called "Understanding Early Warnings of Mass Atrocities Twenty Years After the Genocide in Rwanda."  During the Rwanda genocide, Hutu militants massacred more than 800,000 Tutsis and moderate Hutus within a 100 days period.
During his speech, Mr. Eliasson pointed out that the consequences of failing to heed the warning signs are horrifying, and the world needs to respond early and take necessary precautions before it is too late like it was in Rwanda.  He emphasized that every time we repeat the phrase "never again," we actually acknowledge a sign of our continued failure as a world community.
A now retired Canadian Lt. Gen. Romeo Dallaire, the head of the UN peacekeeping force in Rwanda at the time was also present at the event. During that time, he requested for the world to take action against the cruelty before it was too late, but his efforts were not successful enough to protect the people of Rwanda.  Mr. Eliasson showed him as an example and emphasized the fact that the only way to prevent future tragedies is to show that the leadership and courage necessary and make our voice to be heard in some way.  He further added how necessary for the UN is to act on immediately if the particular government does not take any action or fulfill its responsibilities accordingly.
Mr. Eliasson urged that the people of the world are questioning how successful the UN is in its efforts to protect human rights and civilian populations as never before. In this aspect, he pointed the importance of providing early warning and supporting all the efforts to protect civilians in such situations. Among many, he gave various examples of early warning signs, including the massive use of child soldiers, sexual abuse of girls and women, and basically putting civilians in danger with no precautions taken to protect them. When these kinds of events start to happen, they present considerable signs that "a society is about to implode and possibly degenerate into genocide."  Mr. Eliasson cited Syria, CAR, Mali, and the Democratic Republic of Congo (DRC) as examples where these events have taken place.
Even today, when the violence arises in one country, the international community seems to hesitate to act on it immediately or to make sure that basic human rights are not violated, and civilians are not killed for frivolous reasons. What do you think it should be done to prevent future tragedies like the one happened in Rwanda? Do you agree with Mr. Eliasson's observations of the world response to such tragedies?  Do you think the UN is currently taking enough actions to protect Syrian civilians?
Source:
Picture: