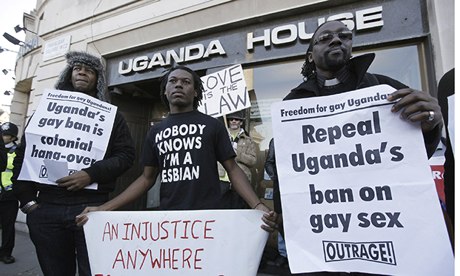 I had no idea what to write about for his week's blog but as I drove to school, the radio had something extremely interesting. Just as I had no idea, I'm sure many of you are not aware of Uganda's situation concerning its gay community. Uganda's parliament once again passed an amended bill in December of 2013, increasing penalties for already existing anti-gay legislation. The bill if passed will legalize the persecution of people based solely on sexual orientation. The bill also has retained life imprisonment as its severe punishment and has dropped the death penalty for such crime. In addition, people working on HIV/AIDS prevention and treatment programs and LGBT rights would face criminal charges and jail terms for promoting homosexuality. As most of us already know, the African countries are the most intolerant in the world when it comes to homosexuality and Uganda is among the most intolerant. The president only has until February 23rd to veto or amend the bill to stop it becoming law. The president has commissioned reports from doctors and geneticists before making his decision. According to several sources, the president believes he can only give his consent for the bill if scientists can prove that homosexuals are made rather than born.
Today, thousands of civil society activists, including Amnesty International supporters in the UK, Canada, Spain and Germany are acting together in solidarity with campaigners in Uganda to show their opposition to Uganda's Anti-Homosexuality Bill and call on President Museveni to veto it.  Today has been deemed a "Global Day of Action" were multiple civil society groups around the world have gathered under a similar cause to urge the President of Uganda to veto the bill through protests, petitions and action on social media.
Once again, an African country hates the gay community and is seeking to legalize their persecution. This issue was particularly interesting to me not only because of the effort that the international organizations are putting on Uganda but also because Richard Branson of Virgin, has spoken publicly about how companies should boycott Uganda to pressure them to not pass this law. As Branson described, this is "a dreadful witch hunt against the gay community". Uganda and the rest of the African countries need to get it together and realize that in our modern civilization, equality for all is the engine behind the most powerful societies. It will be interesting to see what happens at the end of the month whether the bill gets passed or not. Even if the president does not sign, the bill could still pass if on resend, the parliament once again approves by 2/3 of votes.
I would love to hear any opinions or comments regarding this matter.
Does anyone find Richard Bronson's actions interesting and/or possibly effective?
Sources: Amnesty International; The Guardian
Picture: The Guardian