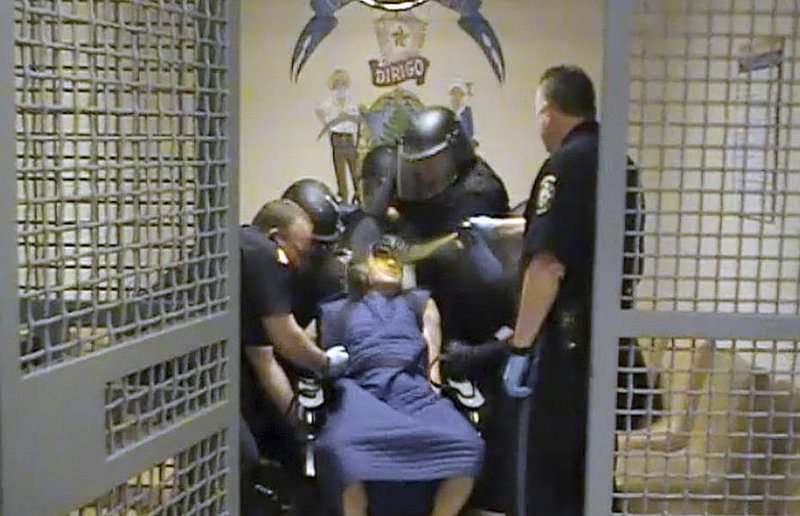 Andrei Tali is an Estonian national who is currently serving  life sentence in prison for murder. While in jail, he had been known to getting into altercations with other prisoners and prison officers for which he was convicted. Tali is now alleging that he was being ill-treated by the prison officers on July 2009 when he refused to comply with their orders.
He claims that guards used disproportionate force in order to take him to a punishment cell. They pressed his neck very strongly and as a result, he lost his breath and allegedly broke a rib. The officers also sprayed him with pepper spray in his face without any prior warning after refusing to give them his mattress. After they sprayed him, the guards hit him on the back after being handcuffed with a telescopic baton. Finally, Tali was strapped to a restraint bed for three and a half hours. The injuries that resulted from this conduct included haematomas and blood in his urine.
During the criminal investigation, the officers confirmed that they used pepper spray and had hit him with the baton, however, the authorities were unable to establish whether they hit Tali with the baton before or after he was handcuffed. In 2010, the investigator's discontinued the investigation because he found that the guards' use of force had been lawful. This was due to the fact that Tali had not complied with the guard's orders and he behaved aggressive. The appeal court upheld the decision in October 2010.
This case was then brought to the European Court of Human Rights. The court claimed that the prison staff  "had a reason to be concerned about their safety and to be prepared to take appropriate measures when he behaved aggressively." Further, they claimed that Tali's injuries "indicated that a certain degree of force was used against him." With regards to the discrepancy over when the guards hit Tali with the baton, they stated that 'it was in no better position than the national authorities to establish the exact factual circumstances of that beating."
The court then turned to the European Committee for the Prevention of Torture and Inhuman or Degrading Treatment or Punishment (CPT) to analyze the "legitimacy of the use of pepper spray." The CPT claims that "pepper spray was a potentially dangerous substance which was not to be used in confined spaces and never to be used against a prisoner who had already been brought under control. Pepper spray could have serious effects on health such as irritation of the respiratory tract and of the eyes, spasms, allergies and, if used in strong doses, pulmonary edema or internal hemorrhaging." The fact that peeper spray was used in such a confined area and that the guards had an alternative mean to restrain Tali, the court found that the circumstances had not justified the use of pepper spray.
With regards to Tali being placed in a restraint bed for three and a half hours, the court ruled that using this method was also not justified. The court stated that the measures of restraint had never been used as a means of punishment for a prisoner, but "rather to avoid-self harm or serious dangers to other prisoners or guards." Ruling in favor of Tali, the court stated that "it had not been convincingly shown that after the end of the confrontation with the prison officers – and being locked in a single-occupancy disciplinary cell – he had posed a threat to himself or others that would have justified applying such a measure."
The court ruled that the use of pepper spray and the strapping of Tali to a restraint bed was unjustified and amounted to inhuman treatment. The court ordered Estonia to pay Tali 5,000 euros in non-pecuniary damage and 1,776 euros for costs and expenses.
Do you agree with the ruling of the ECHR? How far should prison guards be able to go in order to restrain prisoners that are not complying with their orders? Should there be some sort of punishment for prison guards that conduct this type of behavior?
Sources: ECHR
Picture: Thinkprogress.org