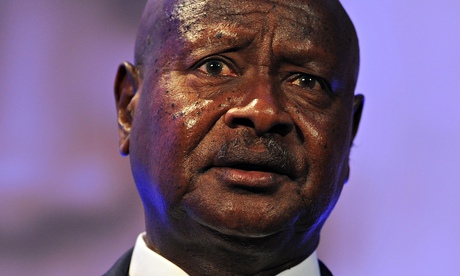 Last week I wrote about a new bill passed by the Uganda Legislature, which dramatically increased the penalties for homosexual acts. The bill made life in prison as the highest penalty for "gay" sexual activity. In my previous post, I discussed how Amnesty international among many international LGBT organizations were unifying in solidarity to show their opposition to the bill. They collected signatures and displayed protests against the new upcoming bill in hopes that Uganda President Yoweri Museveni would take it into consideration when deciding on whether or not to sign the bill into effect.
Today, Museveni signed the bill into effect making homosexuals persecution legal in Uganda. Museveni before making his decision solicited reports from genetic scientists to determine whether homosexuality is a learned behavior or a genetic passed down trait. In an interview today with CNN, the Uganda president stated that through the reports the scientists were able to convince him that homosexuality is a genetic distortion. He went on to criticize the homosexual community saying, "they're disgusting. What sort of people are they?" He also stated, "I never knew what they were doing. I've been told recently that what they do is terrible. Disgusting. But I was ready to ignore that if there was proof that that's how he is born, abnormal. But now the proof is not there."
As I mentioned in my last post, the African countries are the most intolerant when it comes to homosexuality. They believe that modern ideology has disrupted and infected the African countries with the idea of homosexuality and that homosexuality destroys the concept of marriage at the same time undervaluing the most sacred values of the African culture. This law, however, violates the rights of Uganda citizens who happen to be homosexual. Uganda is through its constitution and membership of international human rights instruments has bound itself tom protect the most fundamental rights of its citizens. Rights such as the right to privacy, freedom from discrimination, freedom of association, expression, and even equality before the law.
How can the President of a nation call its very own citizens "disgusting"? Any opinions about the statements of President Museveni are welcomed.
What effect will this new law have on the homosexual community of Uganda?
Sources: CNN; The Guardian
Picture: The Guardian