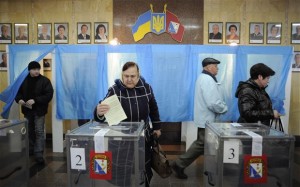 Two weeks ago, March 3rd, 2014, I spoke about Crimea being invaded by Russian militants. In fact, I even said "To me, this whole "I'm going into Russia to help my fellow Russian speaking citizens" is a cover-up to try to regain back their old region." Interestingly, Crimeans voted today, March 16th, 2014, to decide whether to secede from Ukraine and join Russia. Recent reports indicate around 95% of voters favored the secession. There were two questions on the referendum: (1) Are you in favor of unifying Crimea with Russia as a part of the Russian Federation?; (2) Are in favor of restoring the 1992 constitution and the status of Crimea as part of Ukraine?
However, this public referendum was deemed illegal by Western leaders and vowed to punish Russia with sanctions. The Ukraine government has no intention of giving up their land. In addition, Obama made it clear, to Putin, that the referendum violated the Ukrainian constitution and occurred due to the duress of the Russian military intervention. Moreover, he mentions that the United States and the international community would never recognize Crimea under Russian control.
Putin, on the other hand, disagrees with Obama and the international community. He claims he has every right to go into Crimea in order to protect his Russian supporters and people. In my opinion, I do not see this voting process being close to fair. There are Russian militants throughout Crimea and protestors all over the streets supporting Russia. How can you have a fair voting process? Crimeans are definitely getting scared and do not know what to do. Maybe they are getting threatened. I do not think this is the right time to vote on whether Crimeans should be unified with Russia.
Do you think voting on whether to be a part of Russia is fair? Do you think it's illegal? What do you think will happen to those who do not want to be a part of Russia? What will happen if Russia actually annexes Ukraine?
Source: Reuters