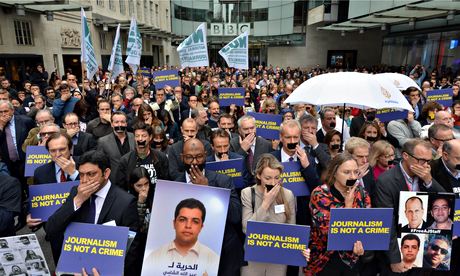 On April 9, 2014, Amnesty International reported that Egypt's detention of three Al Jazeera journalists continued with no substantial evidence presented against them.  The journalists were charged with falsifying news and involvement with the outlawed Muslim Brotherhood movement.  Amnesty International described these detentions as "vindictive."  Hassiba Hadj Sahraoui, Middle East and North Africa Programme Deputy Director said,
What the Egyptian authorities are doing is vindictive persecution of journalists for merely doing their jobs.
He pointed out that the prosecution has failed to meet its burden and was unable to prove any convincing evidence, and the journalists are detained in the hands of the authorities with no substantial reason. He further urged that all three journalists must be released immediately and unconditionally.
The journalists have been detained since the date of their arrests, which was on December 29, 2013.  Along with the journalists, security forces also arrested five Egyptian students two days later.  During the hearing that took place on March 31, 2014, the judge ordered forensic experts to examine the students because they alleged that security forces had beaten them up during the arrest.  Further, despite the fact that one of the journalists needs medical treatment due to a shoulder injury he sustained before his arrest, the authorities continue denying him from receiving adequate medical treatment.  The journalist's condition is getting worse day by day.  Mr. Sahraouni said,
The trial is nothing more than posturing by the authorities to gain public support.
He thinks that this vindictive detention must end, and the charges must be dropped immediately.
In an attempt to suppress the public voice, the arrests of journalists are common in Egypt, Syria, and Turkey these days because these governments cannot seem to stand any opposition voice to be heard. Journalists should not be arrested, detained, or punished for simply doing their jobs.  In democratic societies, everybody's voice must be heard, and everyone should be given a chance to speak out.  In this context, the role of journalists is crucial because their job is to make sure that everybody is heard.  Therefore, the authorities should not judge the journalists for publishing something that is in opposition with their message or views.  Freedom of expression is for all, and not for a particular class of people or groups.
What do you think about the detention of Egyptian journalists in light of the ongoing conflict?  How do you think the world community should response to the detention of journalists with no justifiable grounds?  What do you think the role of the UN is in this context?  Should it step in?
Source:
Picture: