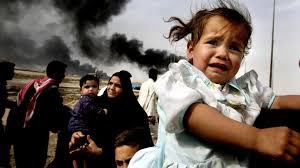 The International Criminal Court has recently decided to reopen their investigation in Iraq involving detainee abuse. The situation was previously addressed, but the Court decided to discontinue the case in 2006. However, this past January, the Prosecutor's Office received information that points to acts by the United Kingdom from 2003 until 2008. The European Center for Constitutional and Human Rights and Public Interest Lawyers brought this new information to the attention of the ICC, which includes more detail regarding the circumstances around the abuse, including time and place, that can provide more support for a case against the United Kingdom. Re-opening the investigation will give the ICC an opportunity to verify the facts provided by these sources.
In 2006, the ICC decided that they failed to acquire enough information that would allow the court to investigate the matter, but the court left open the possibility to reconsider the decision if more information was provided. The new information provided this year points to 60 instances of unlawful killings and 170 instances of torture of Iraqis in British custody during the Iraq War. The two organizations that presented this new information also represented the family of an Iraqi hotel receptionist, Baha Mousa, who was killed in 2003 while being tortured by British troops.
While Iraq is not a state party to the ICC, the United Kingdom is, which allows the ICC to bring suit surrounding the situation. The ICC has jurisdiction over state parties for war crimes, genocide, and crimes against humanity. If the ICC decides to pursue a case against the UK, it would be the first time a western state would be prosecuted against. The ICC has notoriously brought suit against African nations, which has lead to strained relations with Kenya who wishes to withdraw from the ICC because of their alleged bias against African nations.
Do you think the new information provided to the ICC will be sufficient enough to bring a suit against the United Kingdom? How do you think other nations will respond to this case? Do you think particular UK officials will be prosecuted in this case?
Source:
[ICC]
Image:
[RT]