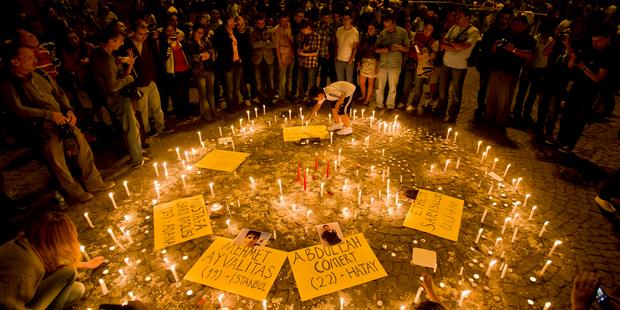 One year on from the Gezi Park protests, Amnesty International continued to monitor aftermath events of the protests and recently published another report titled Adding Injustice to Injury: Gezi Park Protests, about what has happened in Turkey since then.  Among other things, the report focuses on six major points: 1) impunity for police abuses, 2) the continued targeting of the Gezi protest movements and its supporters, 3) prosecutions under the Law on Meetings & Demonstrations and related provisions of the Penal Code, 4) prosecutions and other harassments of groups perceived to support the Gezi Park protest movement, 5) continuing denial of the right to freedom of peaceful assembly and use of abusive force by police, and 6) final recommendations to Turkish authorities.
The report primarily marks the government's approach to demonstrators and how the police are immune from receiving appropriate punishments for having used excessive force against the protesters. Secretary of General of Amnesty International said, "…The message [from the Turkish authorities] is clear: peaceful demonstrations will not be tolerated."  He also reminded the ban on demonstrations across Turkey to mark the anniversary of the Gezi Park protests. The police once again arbitrarily and brutally dispersed the crowd with tear gas, water cannons, and even beatings. The demonstrators were not allowed to mark the anniversary of the protests or commemorate those who died because of excessive use of police force during the protests.  Amnesty International calls on the Turkish government to stop violating basic human rights, guarantee the right to peaceful assembly, and stop tolerating excessive use of police force.
According to the report, more than 5,500 people have been prosecuted in connection with the Gezi Park protests but only five prosecutions have been brought against nine police officers, despite hundreds of complaints of police abuses.  Further, even medical associations, doctors, and other civil servants have faced sanction for helping injured protesters.  Additionally, social media users have been on trial for sharing information about the protests. New laws passed by Erdogan government restrict access to social media and criminalize the provision of emergency medical care during protests.
Turkish government's abuse of authority against the protesters continues non-stop since May 2013, which is when the Gezi Park demonstrations started and lasted over a month. Turkish government refuses to take a step back and recognize the fundamental rights of its citizens as stated in the Turkish Constitution.  It is now a well-known fact that Erdogan government's policies directly aim to suppress the voice of Turkish citizens and completely ignore what they have to say about how Turkey should be governed or what policies should be implemented to ensure citizens safety, apply proportionate use of police force or secure fundamental rights and freedoms of Turkish people.
Since Amnesty International's previous report on Gezi Park protests, it appears that nothing has changed in Turkey concerning fundamental rights and use of police force.  Do you think Erdogan government's conservative policies fit with the idea of modern democracy in Turkey?  Despite the previous report published by Amnesty International, why do you think international community continues to stay unresponsive as to what is happening in Turkey?  Even though Turkish Constitution guarantees fundamental rights and freedoms of Turkish people, the reality does not reflect what is written in the text of the Constitution.  Why do you think this might be the case? How does abusive use of police force can be prevented against the protesters?
Note:
Source:
Picture: