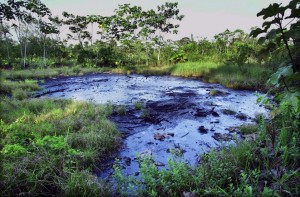 The battle between Chevron and Ecuador continues. On Tuesday, September 9, 2014, an international arbitration panel ruled that the $19 billion judgment that the Amazon Defense Front won against Chevron back in 2011 was based on claims that no longer existed. Chevron acquired Texaco in 2001. The issue was settled in 1995; Texaco and the Ecuadorian government reached a settlement for all of the government's environmental claims against Texaco. In that settlement, Texaco agreed to clean up their percentage of contamination in proportion to the percentage of well sites that they owned. Texaco was released from all the environmental claims in 1998 from the Ecuadorian government for completing the reparations work.
Ecuador enacted a new law, the Environmental Management Act, in 1999 that allowed individual plaintiffs to bring claims for environmental harms. The law establishes principles and guidelines for environmental policy; it determines the responsibilities, duties, and level of participation of the private and public sectors in environmental management. The act also sets maximums for allowable limits, sanctions, and controls for environmental management. The 1995 agreement between Texaco and Ecuador did not extinguish claims of individual third parties. Therefore, after the new law was enacted, the Amazon Defense Front filed a case against Chevron in 2003 seeking environmental damages for groundwater and soil remediation and improvements to the potable water and healthcare systems.
The arbitrators on the international arbitration panel that was handling this matter unanimously agrees that there were no longer forms of relief available because the matter had already been settled back in 1995. The panel wrote that "[i]t is not juridically possible for a person to exercise a right which no longer exists even if, were that right to remain in existence, that person has newly acquired the right to exercise it." This ruling did not end the arbitration though, and the panel will resume discussion in January 2015 to determine if Ecuador denied Chevron their due process rights.
Do you think that the panel of arbitrators decided this issue properly? Should Chevron be released from liability for damages that the Amazon Defense Front is seeking? If so, who should be responsible for cleaning up the ongoing contaminations that result from oil-drilling in Ecuador? Clean drinking water is necessary for all humans; should the oil companies that have already done their part in remediation have to continuously be subjected to claims for ongoing environmental damages?
Sources: Fortune; Natural Resource Governance Institute
Image: Rolling Stone