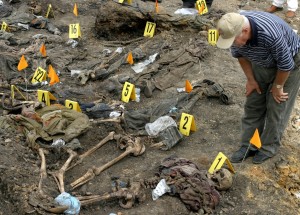 In regards to atrocities committed in the former Yugoslavia, the International Criminal Tribunal for the Former Yugoslavia (ICTY) granted the Prosecution's motion to reopen the case in Prosecutor v. Mladic due to the discovery of a mass grave in Bosnia and Herzegovina. More than 400 bodies, believed to be of Bosnian and Croat victims, were discovered  at the grave site in October 2013. Ratko Mladic, former Commander of the Bosnian Serb Army Main Staff is accused of committing egregious crimes, including genocide, against Bosnian Muslim, Bosnian Croat and other non-Serb civilians from May 1992 to late 1995. He was indicted in July of 1995, but was only captured in May of 2011. His trial commenced in May of 2012.
The Court found "that the fresh evidence was relevant to the case, and had probative value," more specifically highlighting "that the Material clarifies the organised and large-scale nature of killings in Prijedor, and the VRS's [Army of Republika Srpska] role therein." Because of this ruling, the Prosecution will now be able to gain the testimony of six expert and seven fact witnesses. In regards to the defense's argument regarding unfair prejudice, the Court concluded that the defense will have "ample opportunity to present any evidence in response to the Material as part of its case."
During the conflict, the Serb dominated government carried out abuses on the minority ethnic population of Kosovo Albanians. Since the ICTY was established, the Tribunal has indicted 161 persons for serious violations of international law; proceedings against 141 have now been concluded.
Do you think that the existence of the mass graves put into evidence would put the defendant at an unfair advantage? Do you think in war crime tribunals such implicating evidence should be allowed?
Sources: ICTY: Press Release