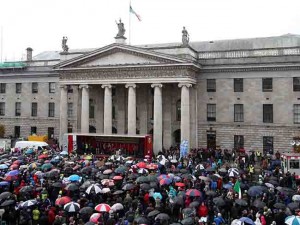 For the past several weeks, the people of Ireland have been in uproar and protesting in the streets over the government introducing water charges in every residence. "Over 90 cities and towns across Ireland had protest marches … with around 150,000 people taking part." Until recently, tap water in Ireland had always been free. However in August 2013, the government introduced a new derivative requiring Irish citizens to pay for the consumption of water. The policy was enacted as part of a condition to Ireland's bailout from the European Union (EU) and International Monetary Fund (IMF). As a requisite to the policy, the government established and designated the new state entity, Irish Water, with the task of carrying out the policy.
A fundamental reason why that the implantation of water charges in Ireland has most of its citizens in such disarray, is because the policy is preceded by several financial derivatives. Since the financial crash in 2008, the Irish economy has suffered a substantial fall compelling the government to seek a €85 billion "bailout" from the EU and the IMF. As part of the bailout program, the Irish government has made numerous social cutbacks while creating new forms of tax revenues, including property taxes. However, the leading contributing factor which caused Ireland's financial crisis, was the common practice by Irish banks freely giving out loans and mortgages to ineligible individuals. Thus, these new tax obligations and austerity cuts have lead Irish citizens to believe they are suffering the consequences of the banks' own negligent actions.
Another reason the Irish are in outrage is because the policy is an infringement on their rights as European citizens. According to EU legislation, Right2Water, every European citizen has the right to water and sanitation. Although, many European countries have polices which charges its citizens for water consumption, Ireland's rate for water is notably higher. In countries such as Sweden, Spain, and Italy rates average between €.99 and €2.16. Whereas, Irish citizens will be obligated to pay approximately €4.88 per 1,000 liters. Consequently, the implementation of water charges "was the straw that broke the camel's back."
Many have asserted that they rather go to jail than pay for the water charges. In fact, recently in Dublin, "15 Irish Water workers were 'imprisoned' for 12 hours by protesters who were objecting to meters being put in along streets." The revolt against water has become widespread, with the people of Ireland feeling they have suffered enough and have nothing left to give to the government. Do you think the European Union is justified in promoting the Irish government to implement water charges on its citizens? Or do you think that Ireland should be shown leniency due to its recent financial crisis?
Sources:
John Spain, Irish Water Court Sink Government, Irish Voice November 5, 2014.
Right2Water
Introduction of water charges in Ireland cause widespread street protests, The Guardian, October 31, 2014.
Irish Water
Public Policy. IE