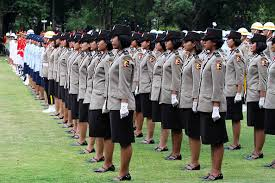 Recently, Human Rights Watch reports that female applicants have to undergo "virginity tests" for Indonesia's National Police force.  However, this is not a new practice and is not unique to Indonesia. The "virginity test" have been a part of the application for women to enter the police force since women were first allowed to join the work force. The so-called virginity test is listed as mandatory for all female recruits under a mandatory obstetrics and gynecology examination. The tests are conducted under the Chief Police Regulation on Health Inspection Guidelines for Police Candidates. The test is given early in the recruitment process as part of the physical exam. They are primarily tested in police-operated hospitals and  includes a check to make sure the hymen is still intact. The "two-finger test"  is an invasive and physically intrusive test to make sure the applicants are virgins. These test are also conducted in Egypt, India, and Afghanistan. Many Human Rights activist have called for  the abolishment of these "virginity test" as discriminatory and unscientific.
The test has been internationally recognized as human rights violations under the "cruel, inhuman, and degrading treatment" provision under article 7 of the International Covenant on Civil and Political Rights. Article 7 also applies to the mental suffering of the victim. Many of the women have reported feeling humiliated, stressed, and degraded. These practices obviously need to be stopped. The virginity of a potential police officer has no bearing on their abilities. In 2012,  a memo from a senior National Police official stated it was a necessity to inspect female candidates' hymens to ensure their virginity.  The test is so widespread that there are books and videos encouraging women to take the test and advising them on what to do when you "fail" the test. These coerced and forced test violate these women's physical and mental integrity.
What is the rationale for these "virginity test" and should it be required?
How can the international community help these women avoid the "virginity test"?
Source: http://www.hrw.org/news/2014/11/17/indonesia-virginity-tests-female-police; http://time.com/3591439/indonesia-sexual-assault-virginity-tests-police/
image: http://time.com/3591439/indonesia-sexual-assault-virginity-tests-police/