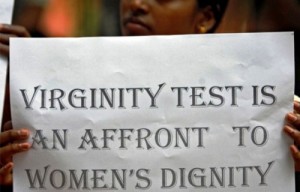 In order for a woman to be a police officer in Indonesia the government subjects female applicants for Indonesia's National Police to discriminatory, cruel, and degrading "virginity tests." According to Article 36 of the Chief Police Regulation No. 5/2009 on Health Inspection for Police Candidates, it requires female police academy applicants to undergo an "obstetrics and gynecology" examination. However, the regulation does not specify that a "virginity test" will be administered. The "virginity test" is given early in the recruitment process as part of the applicants' physical exam. Additionally, Human Rights Watch found that the examination has included the discredited and degrading "two-finger test" to determine whether female applicants' hymens are intact.
According to Human Rights Watch, in October National Police High Commissioner Sri Rumiati declared that in 2010 the head of police personnel, Brig. Gen. SigitSudarmanto, agreed to abolish virginity testing. A police general at the Medical Center claimed the test was no longer applied. However, there is little proof that the National Police have taken any steps to put an end to these "virginity tests." As of November 5, 2014, the Indonesia's National Police jobs website stated the following: "In addition to the medical and physical tests, women who want to be policewomen must also undergo virginity tests. So all women who want to become policewomen should keep their virginity." Thus, married women are not eligible for the job.
Nisha Varia, an associate women's rights director at Human Rights Watch, stated: "The Indonesian National Police's use of 'virginity tests' is a discriminatory practice that harms and humiliates women. Police authorities in Jakarta need to immediately and unequivocally abolish the test, and then make certain that all police recruiting stations nationwide stop administering it."
Do you agree with Nisha Varia? Why or why not? I agree with her completely. These "virginity tests" have been recognized internationally as a violation of human rights. Under Article 7 of the International Covenant on Civiland Political Rights ("ICCPR") it prohibits against "cruel, inhuman or degrading treatment," which Indonesia has ratified. The "virginity tests" completely violate Article 7 of the ICCPR and the Indonesia government needs to put an end to these cruel and degrading tests.
Additionally, the United Nations Human Rights Committee states in a General Comment that the aim of Article 7 is "to protect both the dignity and the physical and mental integrity of the individual." It is clear that the "virginity tests" compromises thedignity of women, and violates their physical and mental integrity. These tests discriminate against women because men are not subjected to the "virginity tests." Therefore, the IndonesianNotional Police discriminate against women thus denying them an equal opportunity to work as police officers.
Source: Human Rights Watch
 Image: Birdee