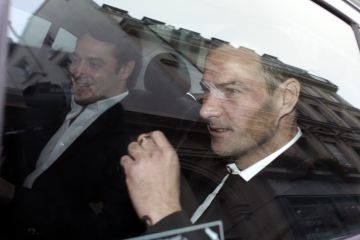 This past Wednesday, Jerome Kerviel, one of the former traders for France's second-largest bank, Société Générale, was ordered to pay 4.9 billion euros in damages to his former employer.
According to the Associated Press, an appeals court ordered 35-year-old Kerviel to pay back the bank this staggering sum as punishment for committing "one of the biggest trade frauds in history."   The court upheld his full sentence, including three years in prison.  Kerviel's convictions include forgery, breach of trust, and unauthorized computer use.  He plans on appealing this decision to France's highest court, the Court of Cassation.
Law.com also reports that Kerviel has been banned for life from working in the financial industry for his "unauthorized computer use," which he used to cover up bets worth nearly 50 billion euros–"more than the market value of the entire bank."
Appealing to the Court of Cassation, would delay carrying out Kerviel's sentence.
David Koubbi, Kerviel's lawyer, described the verdict as "absolutely lamentable."  Kerviel and many others see him as a victim of the "financial system that runs on greed and profits."  A colleague from the bank testified that the court did not consider that others "surely knew about Kerviel's risky bets."  On the other hand, the lawyer for Société Générale referred to the bank as "the victim."
An employee at brokerage Newedge Group, Philippe Hoube,  said Kerviel "could in no case do what he did without being seen" by superiors in the bank.  He continued by saying that "If justice had played its role, they wouldn't have sentenced him so heavily."
Many in the French public were shocked by Kerviel's sentence as they believe Kerviel's claim that he was a "a victim of an unjust system."
Given what we know today about the financial system during the 2008 global financial crisis, where many big banks were blamed for the meltdown, do you think Kerviel is a scapegoat or does he truly deserve such a steep punishment?
SOURCES: The Associated Press, Law.com, Hereisthecity.com
PHOTOGRAPH: The Global Post