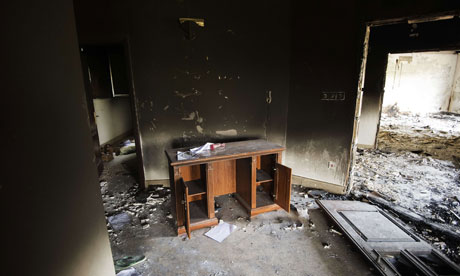 Picture Source  
Since the attacks on the United States Consulate in Libya, which occurred in September of this year, a lot has happened regarding new developments of the attack and its subsequent impact on foreign policy going forward. (See PILR Blog: US Ambassador Christopher Stevens Killed at US Consulate in Libya). Fox News is now reporting that a House committee has scheduled a hearing on November 15th regarding the attack on the consulate. The purpose of this hearing is "to follow up on an issue that Republicans had emphasized before the presidential election in questioning President Obama's foreign policy record." (Fox News). The Obama administration "has been criticized for its confusing explanation for the strike and for security warnings that apparently weren't heeded." (Fox News). Among those expected to testify are the Director of National Intelligence, the CIA Director, and the Director of the National Counterterrorism Center.
Republicans have accused President Obama officials of "downplaying the attack's terrorist nature to maintain an administrative narrative that Al Qaeda is on the run." (Fox News). Although it was initially reported that the "Innocence of Muslims" video motivated the attack, further investigations have since shown there was no protest outside of the United States consulate during the evening of the attack. (Fox News). It is now believed that a group not directly affiliated with Al Qaeda planned the attack. (Fox News) The Obama administration has faced criticism for not doing more to protect the consulate despite receiving requests for security improvements earlier in the year that were either denied or never followed up on. (Fox News). Further evidence has illustrated that United States officials were aware of a growing threat of attack. (Fox News).
The hearing will attempt to get to the bottom of some of these unresolved issues and provide some explanation and insight into the attack. I believe that this hearing could be very important for not only resolution of the attack, but also to cure any missteps that occurred leading up to the attack, which could have possibly been prevented with heightened security measures. Perhaps, this information can be used to help protect against further attacks in the future. With that being said, I would like to pose a few questions for you to consider: What are your overall thoughts regarding this hearing? Do you think that this hearing is good idea? Do you believe that the information obtained during this hearing will be useful in the future and will be applied properly to ensure the safety of US Officials overseas?
News Source: Fox News