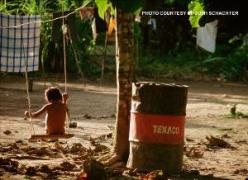 Earlier this week, a civil judge in Argentina ordered the seizure of all Chevron Corporation's assets in the country, and for 40 percent of the company's bank accounts to be held in escrow. The action was the result of a request by Ecuadorian plaintiffs for the Argentinian court to enforce a $19 billion award against Chevron for allegations of oil pollution in the Amazon Rainforest.
The award was handed down by an Ecuadorian court in 2011 after years of litigation. The plaintiffs claim that during its operations in the Ecuadorian Amazon, Texaco, a Chevron subsidiary caused oil pollution from exploration "damaging the living conditions" of over 30,000 mostly native inhabitants. Texaco was acquired by Chevron in 2001, years after operations in Ecuador had ceased. A spokesman for Chevron said of the Ecuadorian judgement: "[it] is a product of bribery, fraud, and it is illegitimate."
Aside from collections in Argentina, the plaintiffs have brought collection actions against Chevron in Brazil and Canada. The Ontario Superior Court of Justice in Toronto will have a hearing on the lawsuit later this month. Chevron says that it currently has no assets in Ecuador, which explains the global nature of collection attempts by the Ecuadorian plaintiffs.
Collection actions may also be brought against Chevron in the U.S. in the coming months. on October 9 earlier this year, Chevron lost a case in the Supreme Court seeking to block the judgement and bar the Ecuadorians from collecting in the U.S. The Supreme Court upheld a Second Circuit Court of Appeals ruling overturning a federal trial judge's earlier decision that preempted any collections in New York and that barred the plaintiffs from seeking collections anywhere outside of Ecuador.
Do you think the Ecuadorian plaintiffs have a right to seek collections outside of Ecuador? Should a U.S. court honor collection actions by the plaintiffs against Chevron for Texaco's pollution?
SOURCE: Bloomberg.com,  The Wall Street Journal
PHOTOGRAPH:  Neweraofresponsibility.com