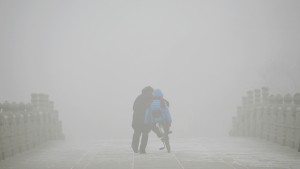 On Saturday, China's air pollution levels were at a dangerous high for the second straight day, making it the worst air quality report in Beijing since the municipal government began to track the level of airborne particles in 2008. These hazardous levels are predicted to continue until Tuesday.
China is notorious for its air pollution problems. These problems are greater in areas that are highly populated like Beijing because of the country's rapid pace of industrialization, reliance on coal power, growth in car ownership and disregard for environmental laws.
The air pollution in Beijing is monitored by the Beijing Municipal Environmental Monitoring Center who reported on Saturday that the level of PM 2.5 particles, which are tiny particles considered the most harmful to one's health, reached 700 micrograms per cubic meter. In order to get a better idea as to how dangerous this level is, the air quality is considered good when the index level is at 50 or below and considered hazardous at a level between 301 and 500. The U.S. Embassy in Beijing also monitors the air quality level and reported a reading of 755 on Saturday. These authorities believe that the foggy conditions and lack of wind have contributed to this high concentration of air pollutants.
Authorities have warned citizens to stay indoors as much as possible, especially those who suffer from respiratory problems, in order to protect themselves from the smog. Such smog levels may also cause problems and delays for public transportation and flights out of China. Meteorologists report that a weather pattern Wednesday will cross over China bringing wind which will hopefully improve the air quality levels.
It seems as if the environmental laws in China are collectively being disregarded by the manufacturing industries or that these laws do not effectively stop those from breaking the law. What do you believe needs to be done in China to improve its air quality? What do you believe will happen if this environmental problem continues?
SOURCES: CNN, CS Monitor
PHOTO SOURCE: CBS News