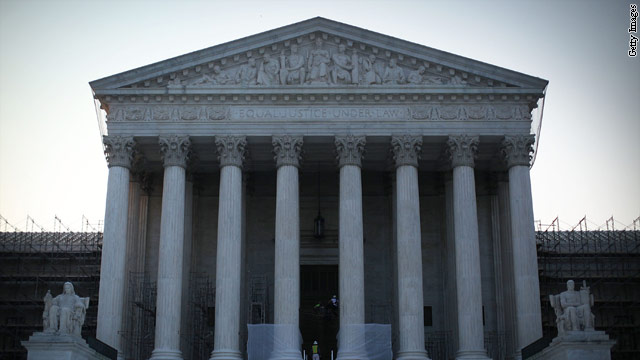 This past Tuesday, the Supreme Court rejected an effort by a group of attorneys, journalists and others to proceed with a lawsuit over the federal government's sweeping electronic monitoring of foreigners suspected of terrorism or spying. The 5-4 conservative majority concluded that the plaintiffs lacked "standing" or jurisdiction to proceed, because they were not able to make a specific showing that they have actually been monitored.  Justice Alito said plaintiffs "cannot demonstrate that the future injury they purportedly fear is certainly impending."
The justices did not address the larger questions of the program's constitutionality, and this ruling will make it even harder for future lawsuits to proceed. The main issue in the case was: "Can these American plaintiffs who deal with overseas clients and co-workers file suit if they reasonably suspect – but cannot know for sure – that the government was reading and hearing their sensitive communications?" The question of personal liberty versus national security is one of the biggest, most controversial questions for the Supreme Court.
In 2008, Congress revised The Foreign Intelligence Surveillance Act to give the attorney general and the director of national intelligence greater authority to order "mass acquisition" of electronic traffic from suspected foreign terrorists or spies. Previously, this act required the government to justify a national security interest before any monitoring of phone calls and e-mails originating in another country. Also, a federal judge had to sign any search warrant.
The larger issue involves the constitutionality of the federal government's electronic monitoring of targeted foreigners. A New York Appeals Court ruled against the Obama administration, prompting the current appeal. After such "warrantless wiretapping" was exposed, President George W. Bush moved to amend the existing law, which is designed to target only foreigners living outside the United States.
"If the government were to prosecute one of the (plaintiffs') foreign clients using authorized surveillance, the government would be required to make a disclosure," Alito said, while supported by Justice Roberts and Justices Scalia, Justice Kennedy and Justice Thomas. In his dissent, Justice Breyer said the harm claimed by the plaintiffs "is not speculative. Indeed it is as likely to take place as are most future events that commonsense inference and ordinary knowledge of human nature tell us will happen." He was supported by Justices Ginsburg, Sotomayor and Kagan.
A key concern now is whether this will stifle free speech of the work of lawyers, journalists, and activists by forcing them to do their jobs less diligently, for fear of being monitored and prosecuted.
For a more in-depth reading of this issue, read Clapper v. Amnesty International USA. What do you think is more important, personal liberty or national security? Are we required to give up  little of our freedom for protection? Or should the government find a better balance?
Article and Photo Source: CNN.com