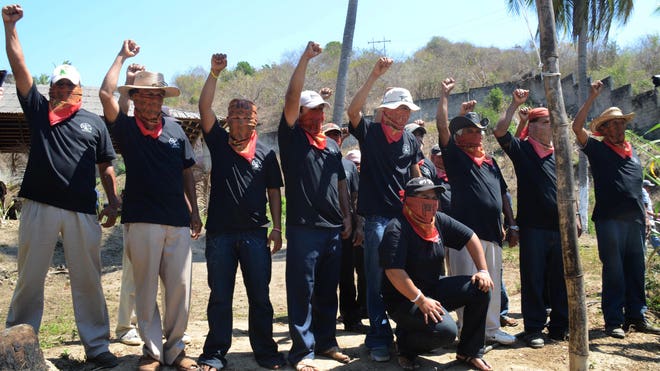 Image Provided by Fox News, available at http://www.foxnews.com/world/2013/02/26/in-mexico-spread-vigilante-groups-sparks-debate/
The disarray in Mexico coupled with the police's failure to curb crime, has caused armed vigilante groups to "spread to at least four Mexican States, manning checkpoints, patrolling streets and in one case killing a 'suspect' in a shootout." (IOL News). These vigilantes have posed a challenge to Mexican President Enrique Pena Nieto. "Raul Plascencia Villanueva, head of the National Human Rights Commission, said the vigilante trend must be rejected, warning that there is 'very fine line between self-defence organizations and paramilitary groups.'" (IOL News). This rapid expansion of these groups began in January, where a group of men wearing masks, "took up machetes and hunting rifles in the rural mountains of the southwestern Guerrero state." (IOL News).
The rapid spread of these "vigilante-style community self defense groups" has brought about debate in Mexico. Particularly, after the most recent group came about with "sophisticated weapons, printed T-shirts, and clothing that doesn't reflect the usual mix of participants."  (Fox News). This group appeared in Tepalcatepec, in the western state of Michoacán. (Fox News). The vigilantes say the reason behind their up rise is due to the fact that police are far too corrupt and have been unwilling or unable to stop drug gangs throughout Mexico.
On Tuesday, Assistant Interior Secretary Eduardo Sanchez said that the government was attempting to negotiate with these vigilante groups. What do you think can be done throughout these negotiations to curb the rise of these groups? Personally, I do not think anything can be done in regards to the vigilantes until the government and law enforcement authorities can get a stranglehold on these drug gangs and restore faith in law enforcement.
The debates regarding this recent problem has consisted of finger pointing at both state governors and federal policy makers. (IOL News). Senator Ernesto Cordero stated, "it is a governability crisis, because it demonstrates the total absence of the police." (IOL News). Manlio Fabio Beltrones, leader of the Ruling Institutional Revolutionary Party, stated "governors should reconsider the way their governments work if they are not capable enough to offer protection, safety and justice to their populations." (IOL News).
Keeping those comments in mind, please consider the following questions:
(1)  What can be done to ensure that the people of Mexico have protection, safety, and justice as mentioned in the quotes above?
(2)  From an international perspective, should other nations intervene to try and help bring about peace in Mexico and restore order?