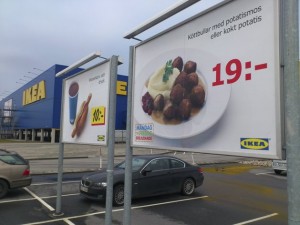 IKEA has recently recalled 1,670 pounds of their (previously) delicious little meatballs from 14 European Countries due to the fact that they contained horse meat.  The discovery furthered the already alarming trend of finding horse meat mixed with beef that has been spreading its way through Europe starting in Ireland.  While no horse meat has been detected in the United States as of today, it raises the problem of mislabeled food products potentially entering the U.S. market.
There are no known side-effects of eating our domestic equine friends, however the majority of consumers would not eat the mixed meat if they were aware of its contents.  While the demand for horse meat has grown with respect to some growing demographics in the U.S., several states, including California, Illinois, and New Jersey prohibit the slaughter of horses for human consumption.  Horse meat is widely eaten around the world and is "high in protein, low in fat and has a whole lot of omega 3s."  The main legal issues, however, are what implications there can be for mislabeling food products that are sold and consumed in other countries.
IKEA, if it had known about the horse meat, was smart enough to halt importation of the tainted meat as soon as they were notified, however what can be said for the other countries?  While the U.S. has strict inspection processes that can detect the presence of horse meat, other countries likely do not have the same resources.  What can be done to ensure that distributors are correctly labeling their products and inform consumers about what they are eating?  Where several cultures may look upon horse meat as a delicacy, others may abhor the idea of eating it and the recent outbreak of mixed meats has created several interesting problems for the international food industry.
What procedures can be implemented to ensure the integrity of meat products?  What legal consequences are there for companies that intentionally add horsemeat to their products without labeling them?
Source: NY Times
Picture: Yahoo News